Five Views: An Ethnic Historic Site Survey for California
---
MENU
---

Introduction
Immigration
Settlement
Organizations/Religion
Discrimination
World War II Incarceration

Historic Sites
Selected References
---

---

A History of Japanese Americans in California:
HISTORIC SITES
---
Yamato Colony
Livingston, Merced County
A personal vision of Kyutaro Abiko resulted in establishment of the Yamato Colony, an agricultural Japanese community in the Central Valley of California. Abiko was confident that the future of Japanese in California was in farming, and that immigrants must forget about the rampant gambling and dissolution in which many of them were involved. In 1904, Abiko purchased 3,000 acres in Livingston and divided it into 40-acre units. He advertised in newspapers such as the Shinseki and Nichi Bei Times about the "Yamato Colony," in an effort to establish a Japanese community of farmers. Land was sold at $35 an acre and was financed over a five-year period by the Nichi Bei Ginko, a bank associated with Abiko.
The area lies between two railroad tracks east of Highway 99, outside the town of Livingston. The boundaries are Guerriero on the north, Cressey Way on the south, Livingston Cressey Road on the east, and Highway 99 on the west, although these boundaries include properties not part of the original Yamato Colony.
In November 1906, the first issei, Tajiro Kishi, purchased land and moved to Livingston; by 1908, there were 30 individuals. These pioneers began the difficult task of converting open land to productive fields. The period from 1910 to 1915 has been referred to as "Hihei jidai," or period of impoverishment. Down payments were made on the land, homes built, and peaches and grapes planted, but no real harvest was foreseen for three to five years. A woman, Mrs. Naka, planted an unusually tasty and attractive eggplant crop which was shipped to the San Francisco market. The following year, other farmers began raising eggplant. Sweet potatoes, asparagus, tomatoes, and melons were also produced for income. These first crops provided the immediate income necessary for farmers to survive.
By 1910, a food buying cooperative was established. A marketing cooperative began in 1914, and in 1917, a packing shed was built. A Christian church was built that same year. Livingston remains possibly the only Japanese community without a Buddhist church, but the belief that the Yamato Colony was originally established as a Christian settlement is a misconception. Newspaper advertisements made no mention of Christianity, although Abiko himself was a Christian, as were several of the settlers. The colony eventually became Christian.
The original colonists were from either Wakayama-ken or Chiba-ken. The latter group faded out, however, and many of the farmers have their family origins in Wakayama.
Residents of the Yamato Colony never made an attempt to develop commercial enterprises in Livingston, except as they related to farming. Consequently, the Japanese did not establish grocery stores, laundries, dry goods stores, or other businesses. A common understanding seemed to be that if Japanese functioned only in the agricultural sector, this would avoid competition with non-Japanese, and would decrease the chances of racial hostilities.
One source states that in 1940, 69 Japanese families farmed more than 3,700 acres in Livingston. During the World War II internment of Japanese Americans, 54 families from Livingston and Cortez hired a land manager who oversaw their properties while members of the Yamato Colony were incarcerated. Many issei pioneers turned over management of the properties to the next generation after World War II.
Crops grown by Japanese Americans have gradually changed during the 1970s from grapes and peaches to almonds. In addition, there is some experimentation with kiwi fruit and production of sweet potatoes. The cooperative produced approximately 2,000 tons of almond nutmeats in 1979, and shipped 400,000 cartons of sweet potatoes in 1980. In 1979 kiwi were packed for eight growers who were not cooperative members.
The Livingston Farmers' Association in 1976 had 4,190.5 acres in almonds, 1,647.5 in peaches, 616 in grapes, 296.5 in other tree fruit, 8.5 in kiwi fruit, and 1,180.5 in sweet potatoes; 709 acres remained open. Fourteen permanent and more than 100 seasonal workers were employed. The association conducts approximately $10 million in business per year. The cooperative currently lists 65 members — one Chinese American, one Mexican American, six Whites, and 57 nisei.
The farms are individually owned, and homes and gardens have been constructed among the crops. Commonly held property includes a parcel on Eucalyptus Road that houses the almond packing plant and the equipment repair shed where cooperative-owned machinery and equipment are maintained. In the town of Livingston, the cooperative owns an office and a packing shed. The Japanese community also constructed its own Methodist Church on land donated by Kyutaro Abiko. In 1977, the Japanese Methodist Church merged with the White Methodist church in Livingston.
One of the interesting sidelights of the Yamato Colony is that for a farming community, a very high proportion (more than 60%) of the people have college degrees. Both male and female nisei were encouraged by their parents to find jobs in other occupations because of the hardship in farming. The sansei generation has generally left the farms, but a few individuals have returned to participate in agricultural activities in Livingston.
Outside Livingston is a road named "Yamato Road," originally called "Yamato Colony Road," adjacent to farms owned and operated by Japanese Americans in the heart of the area originally called the Yamato Colony.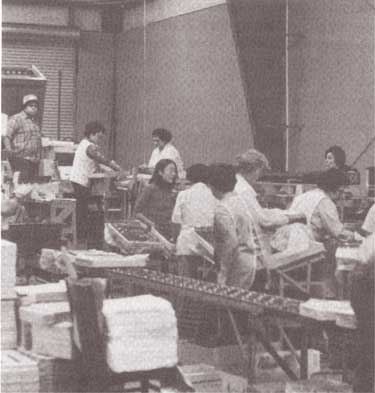 Yamato Colony, Livingston, Merced County