Five Views: An Ethnic Historic Site Survey for California
---
MENU
---
Introduction
pre-1769
1769-1848
1849-1879
1880-1904
1905-1933
1934-1964
1965-1980

Historic Sites
Selected References
---

---

A History of American Indians in California:
HISTORIC SITES
---
Sutter's Fort
Sacramento County
Sutter's Fort, named after Swiss immigrant John Augustus Sutter, is on 27th and L streets in Sacramento. Designed by Sutter and constructed by Mewuk and Maidu Indians, the reconstructed fort is now a California State Historic Park and a state historical landmark. It stands on part of its original land, and houses exhibits which include items from the Reed-Donner immigrant party, pioneer firearms, stagecoaches, mining tools, and objects associated with Sutter. Built in 1841, the fort has 18-foot-high, three-foot-thick adobe walls, and encloses a space approximately 500 feet long by 150 feet wide. The bastions, or towers, that rise above the walls in the southeast and northwest corners once housed cannons that commanded all of the fort's gateways except the one on the west. A number of rooms line the inner wall. Detached buildings of wood and adobe brick stand in the inner yard. Some of the wooden buildings were brought from Fort Ross by John Sutter.
Prior to Sutter's arrival, many different tribes lived in the great valley formed by the Sierra Nevada, the Coast Range, and the Tehachapis. The Indians of the Central Valley were hunters, gatherers, fishermen, and basketmakers. The acorn was the staple food in the diet, which also included a wide variety of plants, fish, and small game. Most Indians in the area maintained well-marked territories, which they defended when necessary. In the Sacramento Valley, Indians lived in semi-subterranean conical houses made of logs, bark, or grass. Villages contained from 30 to 50 dwellings, with populations varying between 50 and 150 individuals.
John Augustus Sutter, for whom Fort Sutter is named, was born in Kandern, Switzerland in 1803. He remained there until 1834 when he immigrated to the United States. After much travel and many business ventures, he arrived in California in 1839, and proceeded to secure a land grant of about 49,000 acres in the Sacramento Valley from the Mexican Government.
When Sutter first came to the valley, he encountered about 200 Plains Mewuk Indians about 12 miles below the present site of the city of Sacramento. Five miles north, he entered into the territory of the Plains Nisenan Maidu Indians. (Hurtado, 1981:70) Sutter went on to establish his fort at the confluence of the American and Sacramento rivers, on Mewuk and Maidu lands. He obtained Indian labor through trade and by appointment of chiefs or men whom he designated as chiefs. He honored the headmen with the title of "capitanos" or captains, and paid them after they supplied him with workers. (Hurtado, 1981:70)
Sutter also seized Indian children in order to maintain an adequate labor supply: "From the first, he was in the habit of seizing Indian children, who were retained as servants or slaves at his establishment, or sent to his friends in different parts of the country. But he always took care to capture for this purpose only children from distant or hostile tribes (Bancroft, 1969:138) Sutter's Mewuk and Maidu laborers built the fort, plowed the rancho fields, tended the livestock, worked in the tannery, and served as soldiers in his army. Indian soldiers helped maintain Sutter's power by protecting his establishment from attack by other Indians, Mexican Americans, or others who wanted to interfere with his various frontier enterprises. Later on, many of these same Indian soldiers served with the United States forces during the Mexican War, and helped secure California for the United States. Sutter regularly supplied Indian laborers to other ranchos while he controlled the fort.
Portrayed as an important frontier outpost, the fort was a goal for overland immigrants — a place where they could replenish their supplies and possibly find work. The contribution of Mewuk and Maidu Indians was not recognized although Indians built the fort, protected it, and worked in all its enterprises. In fact, without their labor and support, it would not have been established or maintained. One Indian remembers an ancestor's efforts at Fort Sutter in the following way: "My grandfather was enslaved by Sutter to help in building the Fort. While he was kept there, Sutter worked him hard and then fed him in troughs. As soon as he could, he escaped and with his family hid in the mountains." (Queenie Miller, 1976)
Sutter maintained the fort and its business enterprises until October 1848. Unable to pay his debts, and in order to avoid foreclosure, he transferred his property to his eldest son. His son then surveyed and laid out what was to become the town of Sacramento. He offered lots for sale, and by November 1849, the town of Sacramento had a growing population of 10,000. In order to meet a debt of $40,000, Sutter's son sold the fort, and Sutter moved to Hock Ranch on the Feather River. He lived there until 1865 when he went East. Sutter's Fort deteriorated until 1890, when the Native Sons of the Golden West purchased it. The State of California restored the fort, and in 1937, it became part of the California State Park System.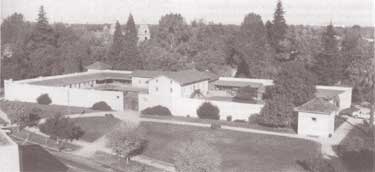 Sutter's Fort
NEXT> Tejon Indian Reservation