Five Views: An Ethnic Historic Site Survey for California
---
MENU
---
Introduction
pre-1769
1769-1848
1849-1879
1880-1904
1905-1933
1934-1964
1965-1980

Historic Sites
Selected References
---

---

A History of American Indians in California:
HISTORIC SITES
---
North Fork School
Madera County
North Fork School is located just past the junction of Avenue 222 and Royce in the town of North Fork, California. Originally constructed in the 1920s by the Indians and townspeople of the area, it served as a public school and later as a community center. The large, rambling schoolhouse contains several small classrooms and one large room used as a meeting hall. The school itself no longer operates out of the old building since the town built a modern structure on the hill above the old site.
North Fork is significant to Indian people because in 1967 it was the site for the conference on California Indian Education. The Rosenberg Foundation provided partial funding for the Indian-initiated conference held on October 20, 21, and 22, 1967. Approximately 180 Indians from all over the state attended the conference, which was the culmination of months of planning by Mono Indian leaders. The object was to find ways to ensure the future of Indian education in California. The California Indian Education Association was a direct result of the conference.
A report written in October 1967 by Jack Forbes stated that the North Fork Conference represented a significant step in California Indian people's struggle for psychological liberation. The meetings demonstrated that California Indian people were attempting to gain some measure of control over their own destiny and the future of their children.
Currently, there is some conflict over who owns the land on which the old school sits. One local Mono Indian leader says that the town took the land away from the Mono people, and that the tribe wants it returned. However, the Indians need a researcher to find the facts, and there is a lack of funds to hire one. North Fork townspeople, however, built the present structure, used it as a public school in the past, and now use it as a community center. Its present owner is the Chamber of Commerce of North Fork. North Fork School has an uncertain and potentially volatile future, but its past reaches into the far corners of California, with all of the state's Indians reaping benefits from that first cold day in October 1967.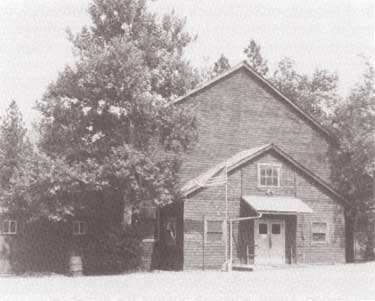 North Fork School
NEXT> Place Where They Burnt the Digger