Five Views: An Ethnic Historic Site Survey for California
---
MENU
---
Introduction
pre-1769
1769-1848
1849-1879
1880-1904
1905-1933
1934-1964
1965-1980

Historic Sites
Selected References
---

---

A History of American Indians in California:
HISTORIC SITES
---
Malki Museum
Riverside County
The Malki Museum is located on the Morongo Indian Reservation on Fields Road near the town of Banning, California. It is constructed of adobe bricks, and is approximately 30' x 50' x 12' in size. Display cases house cultural objects made by Indians from the surrounding area, while the museum grounds include several brush arbors and a botanical garden. Both the museum and its grounds are well attended.
The Malki Museum was constructed in 1965 by the Cahuilla Indians and serves to preserve and enhance Cahuilla Indian lifeways. Its cultural exhibits relate the story of the Cahuillas from the pre-contact period to the present. Malki was also the first home for a publishing company, the Ballena Press, which has expanded its services to include ethnographic and ethnohistoric information and analysis of southwestern tribes.
The Malki Museum was the first Indian controlled and operated museum in California. As such, it is an important example to other Indian groups who are interested in preserving their material culture through a museum. Although the idea of an Indian Museum operated by Indian people seems like an obvious and natural development, it should be remembered that it takes dedicated people to actually accomplish such a task. Malki is a living example of an Indian people's ability to adapt to the fast-changing circumstances that surround their cultural heritage. It will serve future generations by providing them with a glimpse into the rich and beautiful history of the Cahuilla people.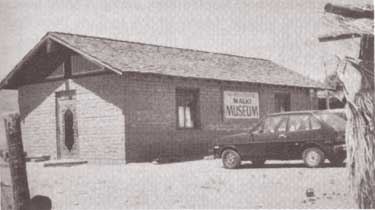 Malki Museum
NEXT> Mankins Ranch