Five Views: An Ethnic Historic Site Survey for California
---
MENU
---
Introduction
pre-1769
1769-1848
1849-1879
1880-1904
1905-1933
1934-1964
1965-1980

Historic Sites
Selected References
---

---

A History of American Indians in California:
HISTORIC SITES
---
Lake County Courthouse
Lake County
The Lake County Courthouse, located at 255 North Main Street in Lakeport, California, is a two-story, 66-by-44-foot, vine-covered brick structure. The bricks were kilned at Lakeport and have been covered with concrete. The building also has a cast iron balcony centered above the entrance on the second floor that was used by the court bailiff when court was in session. Designed by A. P. Petit in 1871, this building served as the seat of county government from 1871 until 1968 when it was replaced by the new courthouse. The Lake County Courthouse is more than 100 years old and was listed in the National Register of Historic Buildings in 1970. At that time, it was the first courthouse in the state of California listed in the National Register. It now houses the Lake County Pioneer and Indian Museum.
The Lake County Courthouse was the scene of many trials when it served as the seat of county government. For Indian people, it served as the birthplace of voting rights for all California Indians. In 1915, Ethan Anderson, a Pomo Indian from off the reservation, attempted to register to vote with the Lake County Clerk. When he was refused, Lake County Indians held meetings and raised money to pay for a lawsuit. After two years of fund raising, Anderson went to court to protest the denial of his voting rights. In 1917, he won his right to vote and thereby won citizenship rights for all California Indians who did not reside on large reservations. (Forbes, 1969:93) In 1924, 55 years after passage of the Fourteenth Amendment, the United States Congress extended citizenship to all Indians.
The courthouse was also the site of other important cases, including decisions on water and water rights that set precedents still in effect today. One such decision on water rights accorded Superior Court Judge Benjamin C. Jones national recognition. Helen Rocca Goss published an account of the White Cup Murders case which was tried in the courthouse, and here also, famed actress Lily Langtry received her divorce decree.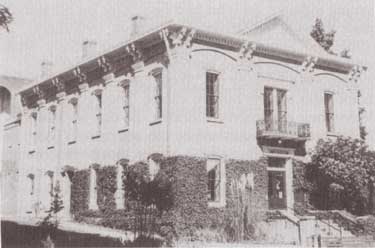 Lake County Courthouse
NEXT> Malki Museum