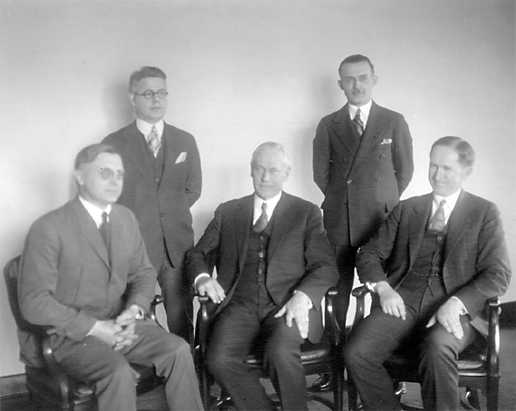 Stephen Tyng Mather and his staff in Washington, D.C., 1927 or 1928. From left to right, Arno B. Cammerer, Arthur E. Demaray, Stephen T. Mather, George A. Moskey and Horace M. Albright.

Directors of the National Park Service

Stephen T. Mather, May 16, 1917 - January 8, 1929

A wealthy, gregarious businessman, Stephen T. Mather came to Washington from Chicago in January 1915 as special assistant to Secretary of the Interior Franklin K. Lane for national park concerns. His vigorous efforts to build public and political support for the parks helped persuade Congress to create the National Park Service in 1916. Appointed the first NPS director in May 1917, he continued to promote park access, development, and use and contributed generously to the parks from his personal fortune. During his tenure the service's domain expanded eastward with the addition of Shenandoah, Great Smoky Mountains, and Mammoth Cave national parks. Periodically disabled by manic-depression, Mather left office in January 1929 after suffering a stroke and died a year later.

Suggested reading: Robert Shankland, Steve Mather of the National Parks (3rd ed.; New York: Alfred A. Knopf, 1976).

Horace M. Albright, January 12, 1929 - August 9, 1933

Horace M. Albright came to the Interior Department from California in 1913 at the age of 23. After Mather's arrival Albright assisted him in overseeing the department's national parks and monuments and working for passage of the National Park Service legislation. Appointed NPS assistant director in May 1917, he acted as director for nearly two years while Mather was disabled by depression and launched the bureau's operations. From 1919 to 1929 he superintended Yellowstone National Park but continued to play a leading role in servicewide affairs. As Mather's successor in January 1929, he engineered the further expansion of an essentially western, natural park system to a truly national park system encompassing historic sites and memorials. He left for a private business career in August 1933 after obtaining the Agriculture and War departments' national monuments and military parks and the national capital parks, but he retained close ties to the NPS until his death in 1987.

Suggested readings: Horace M. Albright as told to Robert Cahn, The Birth of the National Park Service: The Founding Years, 1913-33 (Salt Lake City: Howe Brothers, 1985; Creating the National Park Service: The Missing Years (Norman: University of Oklahoma Press, 1999); Donald C. Swain, Wilderness Defender: Horace M. Albright and Conservation (Chicago: University of Chicago Press, 1970).

Arno B. Cammerer, August 10, 1933 - August 9, 1940

Arno B. Cammerer replaced Albright as assistant director in 1919, serving as Mather's right-hand man in Washington and acting for him in his frequent absences over the next decade. He advanced to the new rank of associate director in 1928, then succeeded Albright as director in August 1933. Under his leadership the NPS became involved with recreational area planning and management, supervised the Civilian Conservation Corps in both national and state parks, and began to survey and record historic sites and buildings outside the parks. Strained relations with Secretary of the Interior Harold L. Ickes impaired his effectiveness and health, and he stepped down after a heart attack in 1940 to become the service's eastern regional director. He died in that position the following year.

Newton B. Drury, August 20, 1940 - March 31, 1951

Newton B. Drury declined appointment as director in 1933 but accepted the job in 1940. He was the first director without prior national park responsibilities but came with strong conservationist credentials, having served as executive secretary of the Save-the-Redwoods League in California. During World War II he successfully resisted most demands for consumptive uses of park resources. Less eager than his predecessors to expand the park system, he opposed NPS involvement with areas he judged not to meet national park standards. Differences with Secretary of the Interior Oscar L. Chapman over Chapman's support for dams in Dinosaur National Monument contributed to Drury's resignation in 1951. He died in 1978.

Arthur E. Demaray, April 1, 1951 - December 8, 1951

Formerly a draftsman with the U.S. Geological Survey, Arthur E. Demaray moved to the NPS when its headquarters was first staffed in 1917. His brief tenure as NPS director in 1951 before his planned retirement was a reward for his long and distinguished service, after 1933 as associate director. In the second spot during the tumultuous New Deal and the difficult wartime years (when he remained in Washington while the headquarters office relocated to Chicago), he proved an extremely effective administrator. Perhaps his greatest accomplishment was to maintain good working relations with Harold Ickes during the irascible secretary's 13-year regime (1933-46). Demaray died in 1958.

Conrad L. Wirth, December 9, 1951 - January 7, 1964

Trained as a landscape architect and previously employed by the National Capital Park and Planning Commission, Conrad L. Wirth joined the NPS as an assistant director in 1931. With the coming of the New Deal he supervised the service's Civilian Conservation Corps program in the state parks. His administrative ability marked him to succeed Demaray, whom he served as associate director before advancing to the top job in December 1951. Wirth's crowning achievement was Mission 66, a 10-year, billion-dollar program to upgrade park facilities and services by the 50th anniversary of the NPS in 1966. After the 1961 change of administrations Wirth fell out of favor with Secretary of the Interior Stewart L. Udall and departed in early 1964. He died in 1993.

Suggested reading: Conrad L. Wirth, Parks, Politics, and the People (Norman: University of Oklahoma Press, 1980).

George B. Hartzog, Jr., January 9, 1964 - December 31, 1972

George B. Hartzog, Jr., joined the NPS as an attorney in 1946. He moved to field assignments at Great Smoky Mountains and Rocky Mountains national parks, then made his name advancing the Gateway Arch project as superintendent of Jefferson National Expansion Memorial from 1959 to 1962. After briefly leaving the service he returned as associate director in 1963 with the promise of succeeding Conrad Wirth in January 1964. A dynamic, politically astute manager, Hartzog welcomed some 70 new areas to the national park system during his nine-year tenure as director and greatly enlarged the service's role in urban recreation, historic preservation, interpretation, and environmental education. Closely identified with the expansionist policies of the Johnson-Udall administration, Hartzog was less appreciated by its successor and was dismissed in late 1972. George Hartzog died in 2008.

Suggested reading: George B. Hartzog, Jr., Battling for the National Parks (Mt. Kisco, NY: Moyer Bell, 1988).

George B. Hartzog, Jr. Papers, 1916 - 1992
The national parks, 1965 : oral history transcript / and related material, 1965-1973
Oral History Interview with George B. Hartzog, Jr pdf) (2005)


Ronald H. Walker, January 7, 1973 - January 3, 1975

President Richard Nixon appointed Ronald H. Walker, an advance man on his staff, to replace George Hartzog in January 1973. Lacking park experience, Walker made Russell E. Dickenson, an NPS careerist, his deputy. Walker advocated a policy of "stabilization," foreseeing that NPS funding and staffing would be inadequate for a continuing high influx of new parks and program responsibilities. Fourteen areas nevertheless joined the park system during his two years as director, including the first two national preserves. Nixon's resignation in August 1974 presaged Walker's replacement five months later.

Gary Everhardt, January 13, 1975 - May 27, 1977

Gary Everhardt began his NPS career as an engineer in 1957 and rose to the superintendency of Grand Teton National Park in 1972. Favorable notice there propelled him to the directorship in January 1975. As director he oversaw a great increase in park development and interpretive programming for the bicentennial of the American Revolution. The return of an NPS careerist to the job was much applauded by park employees and supporters, but Everhardt's leadership fell short of expectations, and the new Carter administration returned him to the field as Blue Ridge Parkway's superintendent in May 1977.

William J. Whalen, July 5, 1977 - May 13, 1980

William J. Whalen joined the NPS in 1965 as a Job Corps counselor and advanced to posts in National Capital Parks and Yosemite before becoming superintendent of Golden Gate National Recreation Area in 1972. His experience in the burgeoning urban parks field contributed to his appointment as director in July 1977, yet the most significant event of his tenure was President Jimmy Carter's proclamation of much Alaska wilderness as national monuments in 1978, doubling the acreage under NPS jurisdiction. Friction with park concessioners led to congressional calls for Whalen's removal in 1980, and Secretary of the Interior Cecil D. Andrus returned him to Golden Gate. He left the NPS in 1983. Bill Wahlen died in 2006

Russell E. Dickenson, May 15, 1980 - March 3, 1985

Russell E. Dickenson began his NPS career as a ranger at Grand Canyon National Park in 1946 and served in a wide range of park and central office assignments - most prominently as head of National Capital Parks, deputy director, and Pacific Northwest regional director - before ascending to the directorship in May 1980. Having risen through the traditional ranks and enjoying the respect of his colleagues, Dickenson was enthusiastically welcomed to the job and supported in his effort to restore organizational stability after a succession of short-term directors. As when Walker's deputy, he preferred improving the service's stewardship of its existing parks to seeking new ones. The only Interior Department bureau chief to be retained by the Reagan administration in 1981, Dickenson obtained its support and that of Congress for the Park Restoration and Improvement Program, which devoted more than a billion dollars over five years to park resources and facilities. Dickenson retired in March 1985. Russell Dickenson died in 2008.

Russell E. Dickinson Papers 1930-1985 (pdf)

William Penn Mott, Jr., May 17, 1985 - April 16, 1989

William Penn Mott, Jr., worked for the NPS as a landscape architect from 1933 to 1940 but devoted most of his later career to California's local and state parks. From 1946 to 1985 he served successively as Oakland's park superintendent, the East Bay Regional Park District's general manager, director of the State Department of Parks and Recreation under Governor Ronald Reagan, and general manager of the East Bay Zoological Society. Following his appointment as NPS director in May 1985, Mott issued a 12-point plan to protect the parks and their resources, better serve the public, and improve the service's management. He took a strong interest in park interpretation and returned the NPS to a more expansionist posture after a near-moratorium on park additions during President Reagan's first term. When the Bush administration replaced him with its own appointee in April 1989, Mott remained on the rolls as special assistant to the western regional director overseeing planning for the Presidio of San Francisco. He died in 1992.

Suggested reading: Mary Ellen Butler, Prophet of the Parks: The Story of William Penn Mott, Jr. (Ashburn, VA: National Recreation and Park Assn., 1999).

William Penn Mott Papers 1985-1989 (pdf)

James M. Ridenour, April 17, 1989 - January 20, 1993

James M. Ridenour served as director of the Indiana Department of Natural Resources for eight years before becoming NPS director in April 1989. Less willing than Mott to accept park system additions driven by local economic development interests, Ridenour spoke out against the "thinning of the blood" of the system and sought to retain the initiative from Congress in charting its expansion. He favored alternatives to full federal acquisition of proposed parklands, stressed the importance of working with other government bodies and private entities to protect lands in and outside the system, and sought to achieve a greater financial return to the NPS from park concessions. He departed with the Bush administration in January 1993.

Suggested reading: James M. Ridenour, The National Parks Compromised: Pork Barrel Politics and America's Treasures (Merrillville, IN: ICS Books, 1994).

Roger G. Kennedy, June 1, 1993 - March 29, 1997

The Clinton administration selected Roger G. Kennedy to head the NPS in 1993. He was especially concerned about expanding the service's educational role and moved to enlarge its presence beyond the parks via the Internet. During his tenure the NPS restructured its field operations and sharply reduced its central office staffs as part of a government-wide effort to downsize the federal bureaucracy. Kennedy resigned at the end of President Clinton's first term in 1997.

Robert Stanton, August 4, 1997 - January, 2001

Beginning as a seasonal ranger at Grand Teton National Park in 1962, Robert Stanton served the NPS as a ranger, superintendent, deputy regional director, assistant director, and regional director of the National Capital Region before retiring in January 1997. That August the Clinton administration restored him to active duty, making him the first NPS careerist since Dickenson to head the bureau. Also its first African American director, Stanton has taken particular interest in increasing the diversity of the service's staff and public programs to better serve minority populations.

Fran P. Mainella, July 18, 2001-October 16, 2006

Fran P. Mainella was nominated by President Bush on June 4, 2001 to the position of Director of the National Park Service. On July 18, 2001 Ms. Mainella became the 16th Director of the National Park Service and the first woman to head the 85-year-old agency. Ms Mainella came to the National Park Service with more than 30 years of experience in the park management and recreation field.

Mary Bomar, October 17, 2006-January 20, 2009

On October 17th, 2006, Mary A. Bomar was confirmed by the U.S. Senate and became the 17th Director of the National Park Service. Ms. Bomar is the first naturalized citizen to be the Director of the National Park Service. Previously, Ms. Bomar served as the Northeast Regional Director managing 100 parks in thirteen northeastern states. Ms. Bomar served as the Superintendent at Independence National Historical Park, was the first superintendent at the Oklahoma City National Memorial, the first NPS Oklahoma State Coordinator, acting superintendent at Rocky Mountain National Park and assistant superintendent at the San Antonio Missions National Historical Park. Ms. Bomar's National Park Service career began in the financial arena at Amistad National Recreation Area in Texas where she served as the Administrative Officer.

Jon Jarvis, October 2, 2009

Jonathan B. Jarvis. Sworn in as the 18th director Oct. 2, 2009, by Interior Secretary Ken Salazar. He began his National Park Service career as a seasonal interpretive ranger on the National Mall in 1976. Jarvis is a Virginia native and graduate of The College of William and Mary. Served as Pacific West Region Director 2002-09 where he was responsible for 54 national parks in Washington, Oregon, Idaho, California, Nevada, Hawaii and the Pacific Islands of Guam, Saipan and American Samoa and community revitalization programs that serve those states. He previously served as superintendent of Mount Rainier and Wrangell-St. Elias national parks, and Craters of the Moon National Monument. Other career positions: protection ranger, resource management specialist, park biologist, and chief of natural and cultural resources.
return to History of the National Park Service page

---