Using Technology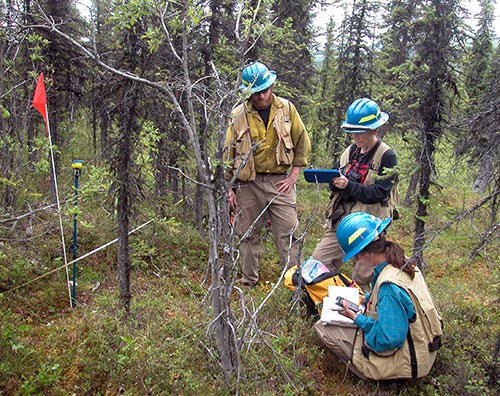 Technology plays an integral part in achieving the Branch of Wildland Fire Management's mission.
The branch makes use of many technologies, including server virtualization, cloud solutions, and mobile computing.
Virtualization: In computing, virtualization refers to the act of creating a virtual (rather than actual) version of something, including virtual computer hardware platforms, operating systems, storage devices, and computer network resources.Virtualization has transformed the IT industry, including NPS Wildland Fire. Server virtualization is heavily used in data centers and in the field for incident management teams. In the data center, virtualization allows for a lower energy footprint and assists with data center consolidation initiatives. Virtualization allows incident management teams to leverage some of the advantages, such as faster configurations, recovery, and deployments.
Cloud solutions: NPS Wildland Fire uses a cloud-based messaging system through BisonConnect that the Department of Interior put in place a few years ago.This system allows for easy communications between partner agencies and enhances communication between the office and the field.
Mobile technology: Mobility plays an important role in NPS Wildland Fire, so it is only natural that mobile technology has become an important component of our everyday operations. Mobile technology is smaller, faster, less expensive, and more prominent in the field. Mobile technologies have facilitated fire operations, such as capturing data through GPS-like devices, and enhanced communications through mobile broadband and satellite services.
These are only a few of the many ways that technology helps the wildland fire community accomplish its mission and objectives. As we move into the future, technology will become much more integrated into the business of wildland fire.

Last updated: July 18, 2016