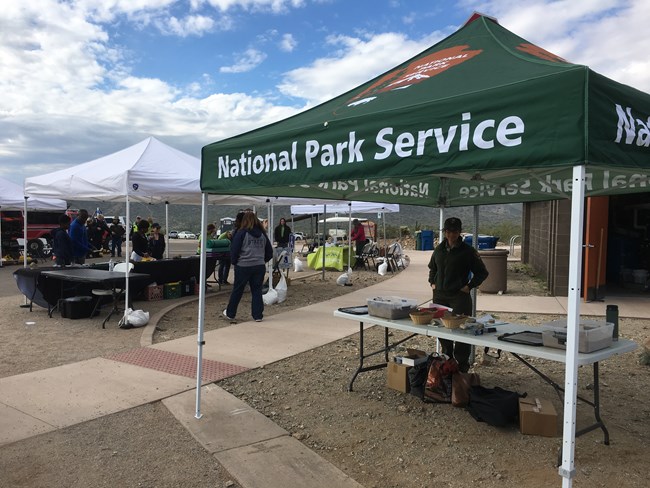 Staff Attend Two Very Different Events
January 13-15, 2017

The second weekend in January provided the Southern Arizona Office (SOAR) Interpretive Team many opportunities for outreach. Staff and volunteers from SOAR and Tonto National Monument teamed up to staff a booth at the Maricopa County Home and Garden Show, Friday the 13 through Sunday the 15. Rangers and volunteers talked to almost 1,000 people on Saturday and over 700 on Sunday about our 22 national park service sites in Arizona. Tonto rangers also had awesome give-aways featuring Tonto National Monument.

Concurrently on Saturday the 14, SOAR staff were invited to do archaeological outreach at Skyline Regional Park in Buckeye, AZ. Skyline celebrated their first anniversary with a huge event featuring free fitness programs, a mountain bike clinic, snacks, and local partners. SOAR archaeologists Hart and Rodriguez set up a booth to teach about archaeology with a "practice dig." Kids got to dig through sandboxes to find pretend artifacts and learn about how archaeologists do their job.