NPS Southwest Archeology Podcast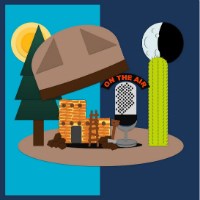 The National Park Service (NPS) Southwest Archeology Podcast explores archeological projects and historic preservation at NPS sites in the southwest. Get
a behind-the-scenes view of how National Park Service archeology works through interviews with park staff, university researchers, and tribal partners.
The show is produced by the Southern Arizona Office, and interviews include both NPS employees and partners. You can also subscribe via
iTunes
(Mac), Podcast Addict (Android), or Podcast Republic (Android).
Questions or comments about the podcast episodes?
Contact us!
__________________________________________________________________________________________________________
African American "Buffalo Soldiers" - Joe Certaine - Season 2 Episode 1

Starting off our second season, we have the honor to speak with Mr. Joe Certaine - historian and historical re-enactor, and creator of the Descendants Jubilee Project.  He has intimate knowledge of the 19th Century African American solider who often ended up "in the shadows of American history."

**Links mentioned in podcast**
https://www.descendantsjubileeproject.com/

Duration:

52 minutes, 55 seconds

Credit / Author:

NPS/Southern Arizona Office

Date created:

2019-06-11
__________________________________________________________________________________________________________
"Buffalo Soldiers" at Chiricahua - Ann Huston - Season 2 Episode 2

In this episode we continue the discussion of African American Buffalo Soldiers, specifically at Chiricahua National Monument in southeastern Arizona.  Park Ranger/Interpreter Ann Huston shares stories of the men who lived in Bonita Canyon for over a year; stories that still resonate today.  Check out www.nps.gov/subjects/buffalosoldiers/ and Chiricahua National Monument at https://www.nps.gov/chir

Duration:

34 minutes, 56 seconds

Credit / Author:

NPS/Southern Arizona Office

Date created:

2020-02-25
__________________________________________________________________________________________________________
Making It Rain - Andy Hubbard - Season 2 Episode 3

In this 3rd episode of our 2nd season, Sharlot starts out saying that it's the opening episode.  Sorry for that!  Otherwise, please enjoy listening to Sharlot and Matt discuss one of their own projects - climate change and adobe architecture in Tucson.

For more information on the Desert Research Learning Center: https://www.nps.gov/im/sodn/drlc.htm

Duration:

20 minutes, 20 seconds

Credit / Author:

NPS/Southern Arizona Office

Date created:

2020-04-10
__________________________________________________________________________________________________________
Historic Preservation - Francis P. McManamon - Episode 1

To start off our NPS Southwest Archeology Podcast, we interview Francis P. McManamon about the beginnings of historic preservation and the Antiquities Act.  Frank is the former Chief Archeologist for the National Park Service, and current Executive Director of the Center for Digital Antiquity (https://www.digitalantiquity.org/).

Duration:

42 minutes, 49 seconds

Credit / Author:

NPS Southern Arizona Office

Date created:

2017-08-31
__________________________________________________________________________________________________________
Linking Southwestern Heritage Through Archeology - Rebecca Renteria - Episode 2

In our second installment of the podcast we interview Rebecca Renteria, Program Manager for Linking Southwestern Heritage Through Archaeology.*  We discuss archeological and heritage education for Parks to Classrooms and National Hispanic Heritage Month.

*The program was re-titled (after recording) in September 2017 from Linking Hispanic Heritage Through Archaeology (LHHTA) to Linking Southwestern Heritage Through Archaeology (LSHTA).  Rebecca is now the Program Manager.

For more on the LSHTA program visit:
https://www.facebook.com/lswhta/

For more on education within the NPS visit:
https://www.nps.gov/teachers/index.htm

Duration:

36 minutes, 20 seconds

Credit / Author:

Southern Arizona Office

Date created:

2017-09-29
__________________________________________________________________________________________________________
Historic Preservation II - Charlie Steen - Episode 3

In our third episode Matt and Sharlot interview Charlie Steen III, the son of NPS Archeologist Charles R. Steen.  We reminisce about Steen's contributions to archeology in the southwest and throughout the world.

**Links from the episode:**
Charlie Steen's email: csteen@unm.edu

Tonto National Monument's webpage with monthly reports by Charles R. Steen: https://www.nps.gov/tont/learn/historyculture/charlie_steen.htm

Casa Grande Ruins National Monument page on chemical preservatives: https://www.nps.gov/cagr/learn/historyculture/chemical-preservatives.htm

Duration:

35 minutes, 45 seconds

Credit / Author:

NPS Southern Arizona Office

Date created:

2017-10-27
__________________________________________________________________________________________________________
Recognizing Native American Perspectives - Lloyd Masayumptewa - Episode 4

In honor of National Native American Heritage Month we interview Lloyd Masayumptewa, Superintendent of Hubbell Trading Post National Historic Site.  He discusses how being Hopi influences his work and what we at the NPS can do better.

**Links in this episode**
Hubbell Trading Post NHS: https://www.nps.gov/hutr/index.htm

Council for Indigenous, Relevance, Communication, Leadership and Excellence (CIRCLE): https://www.nps.gov/orgs/1244/ergs.htm

Duration:

30 minutes, 38 seconds

Credit / Author:

Southern Arizona Office

Date created:

2017-11-17
__________________________________________________________________________________________________________
Partners in Preservation - Angelyn Bass and Douglas Porter - Episode 5

This December at the National Park Service we celebrate our partners.  Partnerships both internally and externally help us to ensure a bright future for the NPS.  Angelyn Bass (University of New Mexico) and Douglas Porter (University of Vermont) are two such partners.  Their partnership and research into our historic and pre-contact sites has been invaluable for us to understand, interpret, and manage our sites better.

Duration:

1 hour, 3 minutes, 6 seconds

Credit / Author:

NPS - Southern Arizona Office

Date created:

2017-12-18
__________________________________________________________________________________________________________
Of Cliff Dwellings and Mentors - Larry Nordby - Episode 6

For National Mentor Month Matt gets to interview his longtime mentor, Larry Nordby (retired Research Archeologist, National Park Service).  Larry discusses cliff dwellings, research, Mesa Verde National Park, project management, and so much more.

Duration:

1 hour, 1 minute, 53 seconds

Credit / Author:

NPS - Southern Arizona Office

Date created:

2018-01-31
__________________________________________________________________________________________________________
The Secrets of Saving Time - Western Archeological and Conservation Center - Episode 7

In our latest episode we interview archivist Khaleel Saba and conservator Dana Senge who both work for the Intermountain Region's Western Archeological and Conservation Center (WACC).  They give us an idea of the work that goes in to preserving archeological records and objects after all the "work" is done.

**Links in this episode**
WACC: https://www.nps.gov/WACC
Grand Teton National Park: https://www.nps.gov/GRTE

Duration:

47 minutes, 42 seconds

Credit / Author:

NPS - Southern Arizona Office

Date created:

2018-02-27
__________________________________________________________________________________________________________
A Woman Who Digs Deep - Jan Balsom - Episode 8

To celebrate both Women's History Month and Arizona Archaeology and Heritage Awareness Month our March interview is with Jan Balsom, archeologist by trade, and Senior Adviser to the Superintendent at Grand Canyon National Park.  Listen along as Jan shares her career experiences and helps Sharlot and Matt realize whatever work they face, Jan's been there!

**Links in this episode**
Grand Canyon National Park Archeology: https://www.nps.gov/grca/learn/historyculture/arch.htm

Duration:

56 minutes, 59 seconds

Credit / Author:

NPS - Southern Arizona Office

Date created:

2018-03-29
__________________________________________________________________________________________________________
Last updated: April 10, 2020