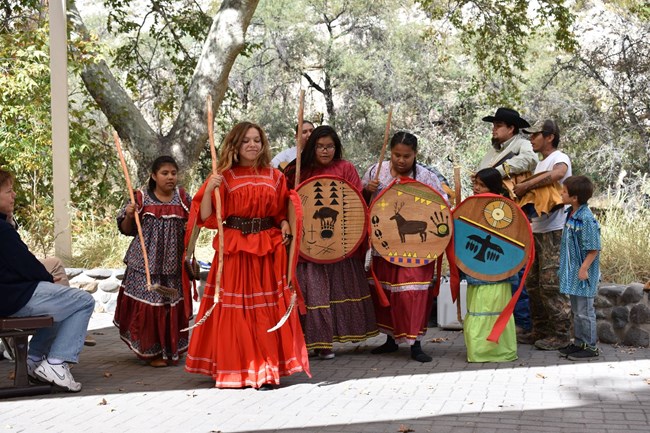 In November of 2017, Montezuma Castle and Tuzigoot National Monuments held several programs and events to celebrate Native American Heritage Month. Native artists, dancers, and story tellers from across the state came to the monuments to share their culture and traditions with our visitors.
The month began with our annual Yavapai Apache Nation Celebration. Local artists and jewelry makers displayed their craft along the Montezuma Castle trail. Visitors were also invited to listen, watch, and participate in traditional songs and dances. Yavapai and Apache elders shared stories of their deep connections to the high desert.
Throughout the month, artists from Hopi, Salt River Pima-Maricopa, and Apache nations came to the parks and demonstrated traditional artwork such as katsina carvings, pottery, weaving, and silver-smithing. The Hopi High School guitar ensemble was also able to come to the parks and put on a concert for our visitors.
As stewards of Native American heritage sites, it was truly an honor to host native artists, storytellers, and musicians. Native American Heritage Month is a time of celebration and education. Visitors and rangers alike were able to gain a new understanding and appreciation for those who have been on this land for countless generations.