Collections Management
The Midwest Archeological Center (MWAC) takes care of archeological collections for over 70 National Park Service units spanning the mid-continent, from the western High Plains to the Ohio Valley. These collections include artifacts (or material remains of past human occupation) recovered during archeological fieldwork and archives (field and laboratory records, photographs, maps, reports, and digital data) created during that work. After over 50 years of archeology in the parks, collections curated at MWAC include nearly 3 million artifacts and archival documents!

When new project collections come to MWAC, they are subject to high NPS standards for documentation, protection, and preservation. All the work we do is designed to make sure these special objects – and the information about them – are available for public enjoyment for decades to come. The Center's collections management staff perform a wide range of activities to ensure proper museum property care and management.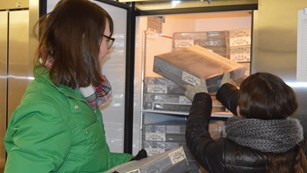 Protection and Preservation
Artifacts and archives need specialized care to be preserved for future generations.
Last updated: August 27, 2020