2016 American Solar Challenge
Midwest Region to Host the American Solar Challenge in 2016
Solar car rally will visit nine parks during the centennial
The National Park Service Midwest Region is partnering with the Innovators Educational Foundation to showcase science innovation by hosting the 2016 American Solar Challenge.University teams from around the world will design and build solar-powered cars, and then drive them 1,975 miles on the open road, visiting 9 Midwest parks in 7 states.
Visitors will be invited to see the cars and enjoy park activities, including a traveling exhibit and other special programs.This 8-day centennial event will take place from July 30 to August 6, 2016.
"I am glad to welcome this unique event to the Midwest Region," said Regional Director Cam Sholly."The American Solar Challenge is an opportunity to share spectacular park resources with new audiences and emphasize efforts the National Park Service is making to 'Go Green.'"
As part of the 2016 Centennial, the National Park Service has challenged itself to provide more research and education around the effects of climate change on national park resources.The National Park Service has also committed to help young people make new connections to national parks, and this collaboration allows innovative students to connect their work on new technology to their parks.Among other things, the Green Parks Program encourages walking, biking, ride-sharing, and use of fuel-efficient or alternative-fuel vehicles.
Every two years, the Innovators Educational Foundation organizes the American Solar Challenge, which is a collegiate student competition to design, build, and drive solar-powered vehicles in a cross-country time/distance rally event."We're looking forward to the American Solar Challenge 2016 being part of the National Park Service Centennial and bringing the solar cars to 9 national park locations across the Midwest.We hope visitors will take this opportunity to see the solar cars, meet the teams, and find their park," says Event Organizer Gail Lueck.
The American Solar Challenge will begin at Cuyahoga Valley National Park in Ohio on July 30, 2016 and end in Wind Cave National Park in South Dakota on August 6, 2016.Midway stops include Dayton Aviation Heritage National Historical Park, George Rogers Clark National Historical Park, Ulysses S. Grant National Historic Site, Wilson's Creek National Battlefield, Brown v. Board of Education National Historic Site, Homestead National Monument of America, and Scotts Bluff National Monument. More information is available on the
American Solar Challenge website
.
Schedule of Event

JULY 29 REST DAY
3:00-7:00 PM
Public Display
Cuyahoga Valley Career Center (Brecksville, OH)
JULY 30

: CUYAHOGA VALLEY NP
Start Line at
8:30 AM
Station Rd Bridge Trailhead (Brecksville, OH)
JULY 30

: DAYTON AVIATION NHP
Checkpoint
1:30-5:45 PM
Carillon Historical Park (Dayton, OH)
JULY 31: AUGUST 1

: GEORGE ROGERS CLARK NHP
Stage Finish
July 31, 10:00 AM–6:00 PM
, Charging
6:00PM-8:00PM
Stage Start A
ugust 1 at 10:00 AM
George Rogers Clark Visitor's Center (Vincennes, IN)
AUGUST 1

: ULYSSES S. GRANT NHS
Checkpoint
12:30-3:30 PM
Grant's Farm (St. Louis, MO)
AUGUST 2-3

: WILSON'S CREEK NB
Stage Finish
August 2, 10:00 AM-6:00 PM
, Charging
6:00PM-8:00PM
Republic High School (Republic, MO)
Stage Start
August 3 at 9:00 AM
Wilson's Creek Visitor's Center (Republic, MO)
AUGUST 3

: BROWN V BOARD OF EDUCATION NHS
Checkpoint
1:00-5:45 PM
Brown v Board of Education Visitor's Center (Topeka, KS)
AUGUST 3-4

: HOMESTEAD NM OF AMERICA
Checkpoint
Aug 3
,
4:00-6:00 PM
Aug 4, 9:00 AM-1:30 PM
Heritage Center (Beatrice, NE)
AUGUST 4-6

: SCOTTS BLUFF NM
Stage Finish
Aug 4
,
3:00-6:00 PM
,Charging
6:00PM-8:00PM
Stage Start
Aug 6 at 9:00 AM
Scotts Bluff Visitor's Center (Gering, NE)
Finish Line
11:30 AM-4:00 PM
Wind Cave National Park Visitor's Center (Hot Springs, SD)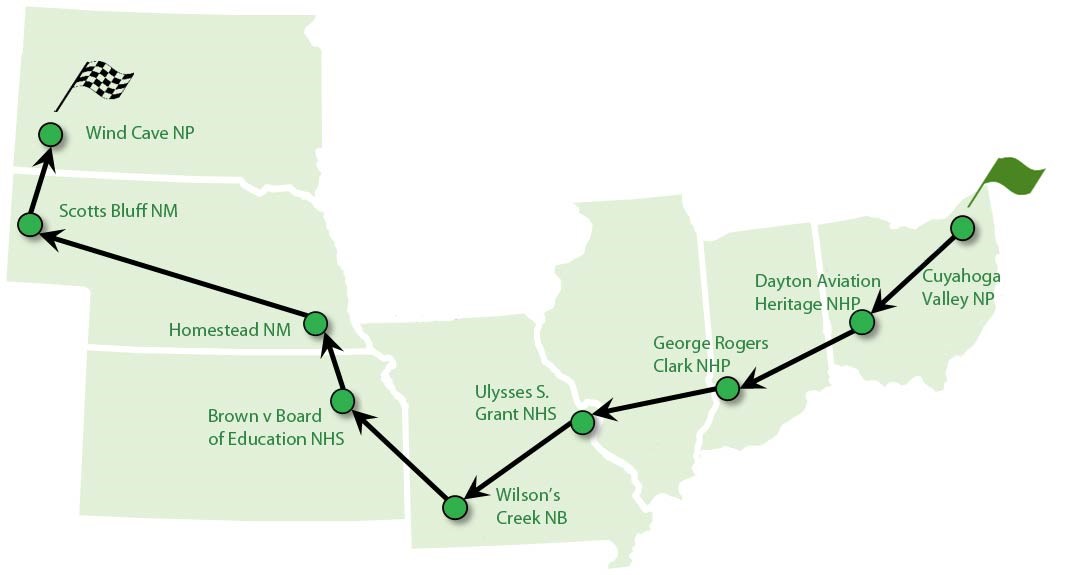 Last updated: July 9, 2021