Volume 6, No. 2
South Florida Collections Management Center
Re:Collections
Spring 2016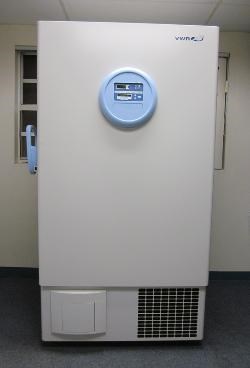 What's New
The SFCMC has acquired an ultra-low (-80C) freezer for DNA & other biological sample storage and is the only unit in the Southeast Region with this specialized storage capability. The first specimens to be housed in it are bacteria from a 2013 study at DRTO titled Biofilm inhibitors from marine microorganisms. Next up: pine needle DNA from a study titled Population genetics of South Florida slash pine (Pinus elliottii v. densa) conducted at BICY & EVER in 2005.
Special thanks to Mary Troy, SER chief of museum and archival services, for supporting the acquisition of the freezer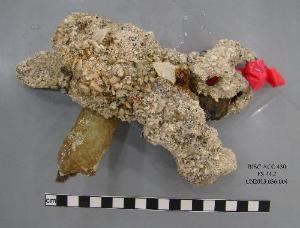 Conservation Corner
The Maryland Archeological Conservation Lab recently treated this concretion (at right), recovered by BISC Archeologist Chuck Lawson. In addition to the visible bone handle, pre-treatment X-rays revealed that it contained other artifacts, including a nail, a large bolt, possibly a knife blade, a lead shot and other objects. Using an air abrasive with aluminum oxide (and lots of patience!), the conservators were able to remove and then treat these "hidden" objects so that they can be studied.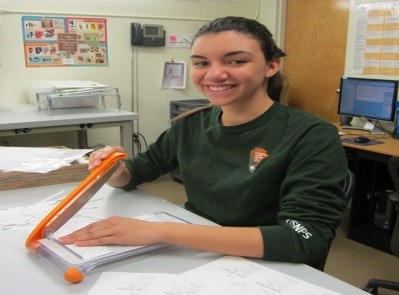 SFCMC Staff Spotlight
Meet Isabel Brador
Isabel Brador is one of the new interns at SFCMC. She is working towards her MA in Public History and a graduate certificate in Museum Studies at Florida International University and plans graduate this semester. After graduation, she will pursue a career in museum collections management. She has previously interned at History Miami and the Wolfsonian FIU. Outside of work, Isabel enjoys reading, cooking, and obscure pop culture references.
Over $347,000 Anticipated for New Projects for FY2016
The SFCMC expects to get a boost in its efforts to improve collection preservation and accessibility through the NPS Servicewide Combined Call (SCC). Currently 19 projects are formulated for this NPS internal funding. Although subject to change until we have account numbers in hand, here is a list of new projects we expect to work on this year: BICY:

Preserve and Make Accessible Museum Archives (

$15,264):

Microfilm Resource Management Records (

$32,867); BISC: Implement Recommendations from Museum Security & Fire Protection Survey ($12,979);

Scan Images in the Museum Image Collection

($22,812); Conserve Shipwreck Artifacts ($11,844); DESO: Catalog Archives Backlog ($11,812); DRTO:

Digitize Museum Image Collection

($5,624); Conserve Cuban Chug ($12,438); Conserve Metal Artifacts ($11,987);

Develop Multi-Media Exhibit and Teaching Guide Featuring 19th Century Specimens

($26,572); Catalog New Project-Generated Archives ($7,238); Catalog Archives Backlog ($22,498); Microfilm Maps and Drawings from Museum Archives ($11,248); Improve Resource Management and Interpretation through Access to Primary Source Materials ($15,138); EVER: Digitize EVER Museum Image Collection ($22,159); Microfilm Resource Management Records ($21,192); SFCMC: Implement Recommendations from Multi-park Artwork CCS ($14,061); Implement Recommendations from Multi-park Archives CCS ($17,233); Migrate Multi-Park Magnetic Recordings to Digital Files ($6,220). It is going to be another busy year!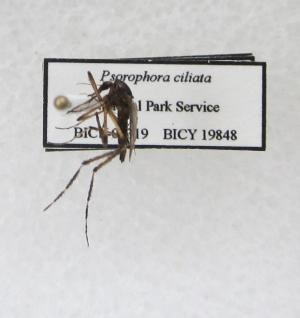 Specimen Highlights
Both 'wet' and 'dry' natural history specimens collected under scientific research and collecting permits have been "pouring" into SFCMC & are currently being worked on (cataloging data into the NPS National Catalog, labeled & re-housed as needed) by Registrar Jennifer and Interns Isabel & Kelly. Specimens include: herbaria (EVER, BICY), otoliths (BICY, BISC, EVER), plankton (BISC), pinned mosquitoes (BICY), pinned bees (BISC) , coral (DRTO) and crustose coralline algae (BISC, DRTO).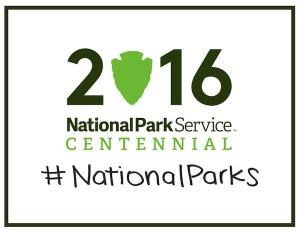 Centennial Projects
2016 marks the 100th anniversary of the passage of the NPS Organic Act and the creation of the National Park Service as we know it today. SFCMC staff will be working on and supporting a variety of projects that celebrate the Centennial. At DRTO, one of the park's 10-inch rifled Parrott guns will be mounted on a reproduction carriage in March 2016. The Coral Gables Museum is developing a multi-park exhibit which will include objects, specimens, and archives from our collections, set to open in June 2016.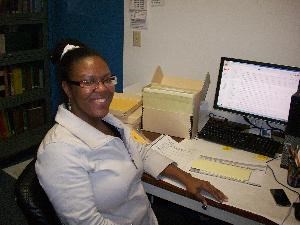 Archives in Action
The project to digitize and microfilm the Biscayne National Park Records of the Superintendent's Office is soon to begin! The Crowley Company in Frederick, MD has been awarded the contract to conduct this project. Say hello to our new NCPE intern Katrice Brown, who received her B.A. History and M.A.S.S. History from Florida A&M University. Her favorite pastimes include being a foodie and being in a repository. She is a lifelong Floridian whose goal is to become an archivist.
White Glove Award
In FY2014, the SFCMC is instituted an annual White Glove Award to recognize principal investigator(s) who demonstrate excellence in meeting his or her curatorial responsibilities for research permits. Awards are given to PIs who submit their specimens, catalog data, and project records on time without nagging, pleading, or cajoling by the SFCMC registrar. The award comes with a framed certificate, our deep gratitude, knowledge that the collections and associated data will be preserved and accessible, and bragging rights—which is better than cash, right?! In FY2015 142 new and renewal permits were issued and one PI stood out from the crowd. Dr. Diego Lirman of the Rosenstiel School of Marine and Atmospheric Science at University of Miami (BISC study: Threatened Acropora Coral Recovery and Restoration: Outplanting Phase) is the FY2015 award winner.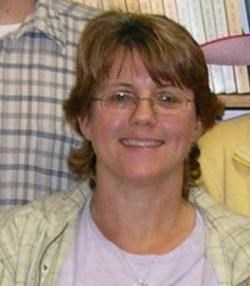 Fond Farewell! So Long!
After 13 years, 6 months, and 21 days, Curator Nancy Russell leaves the SFCMC on April 1st for the NPS Harpers Ferry Center, where she will be the archivist. Some of the highlights of Nancy's time here include: building a functioning multi-park museum management program; receiving a $300,000 ONPS base increase to fund the program; receiving over $4.5 million in project funds for the 5 parks' collections; renovating the Beard Center storage area (which included moving the collection); improving and expanding collection storage; developing a 25-year agreement with Florida Museum of Natural History for wet collection storage; conservation treatment and mounting the DRTO cannon, a project no one else got done in literally a century; developing the swamp buggy exhibit at BICY, including acquiring the buggy, getting it conserved, and an exhibit building built for it; increasing the collection size for all 5 parks from 3 million objects, specimens, and archival documents to over 7.1 million; cataloging collections to make them accessible; developing new exhibits at the parks and supporting short-term and web exhibits, and more. Nancy's list of accomplishments is too long to detail but she is the first person to say that she didn't do it alone. There are hundreds of people she would like to thank for their help, encouragement, material assistance, and emotional support past and present, including the 65 staff, interns, and volunteer she worked with; Regional Curators Mary Troy & Allen Bohnert; Chief Archivist John Roberts; the 482nd CES; Tuckerbrook Conservation; the superintendents and staff at BICY, BISC, DESO, DRTO and EVER, and so many more. Thank you all!
Last updated: February 5, 2018