Volume 4, No. 1
South Florida Collections Management Center
Re:Collections
FY 2014
Apologies
Due to staffing shortages in 2014, the SFCMC was not able to produce its quarterly newsletter. In an attempt to make up for that, we are issuing this edition of the newsletter as a "year in review" for calendar year 2014. We look forward to returning to our quarterly newsletters in 2015.
Collection Tours: Save the Date!
The SFCMC will host a staff open house on February 12, 2015, from 1pm-4pm at the Beard Center museum and the Robertson Building archives. Come by and see how the old training room has been transformed into new museum storage, meet the staff, and see some of the collections.
Come by and meet "Bob" the 13-foot long crocodile, "Kitty" the 105-year old Florida panther, and all the other specimens that didn't come with names. Let Nancy show you the "aliens" and the giant coconut, ask Jennifer to see the Fowey sword or Dr. Mudd's cane, and find out what fun stuff Bonnie and Megan have been working on in the archives. Whether it's your first visit or you've been before, there is always something new to see at the SFCMC! No reservations necessary but please get supervisory approval to attend.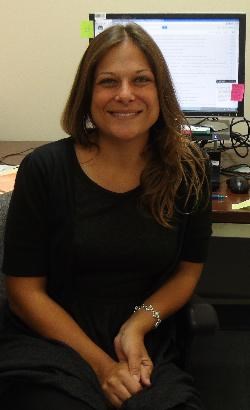 SFCMC Staff Spotlight
Meet Megan! The SFCMC's newest employee is Megan Atkinson. She began working with us as a project archivist in August 2014. Megan has a Masters in Library and Information Science (MLIS) from Drexel University. Her previous NPS experience includes Independence National Historical Park and Hawaii Volcanoes National Park. She has also worked with archives and manuscript collections at Louisiana State University, Temple University's Institute on Disabilities, and for the Philadelphia Area Consortium of Special Collections Libraries. Outside of work, Megan enjoys the beach, camping, biking, and trail running.
DESO Exhibit Extended
An exhibit of archeological materials at DESO was extended for a second year. The artifacts, on loan from the South Florida Museum in Bradenton, complement the park's Spanish and Native American objects which are also on exhibit. The loaned objects include points, fishing weights, and ceramic pots.
Fun Facts: Did You Know . . .
Queen Elizabeth II visited Fort Jefferson in the Dry Tortugas in May 1991?
Former Florida Governor Bob Graham served as an NPS Ranger for a Day in Everglades on February 11, 1987 to commemorate his 200th day in office.
John F. Kennedy Jr. participated in a swamp walk in the Big Cypress when he was a young teenager.Find these and other fun facts about your parks in the SFCMC archives!
White Glove Award
The SFCMC is instituting an annual White Glove Award to recognize principal investigator(s) who demonstrate excellence in meeting his or her curatorial responsibilities for research permits. Awards are given to PIs who submit their specimens, catalog data, and project records on time without nagging, pleading, or cajoling by the SFCMC registrar. The award comes with a framed certificate, our deep gratitude, knowledge that the collections and associated data will be preserved and accessible, and bragging rights—which is better than cash, right?! In FY2014 146 new and renewal permits were issued and two PIs stood out from the crowd. Wes Pratt of Mote Marine Laboratory (DRTO study: Reproductive Biology and Mating behavior of Nurse Sharks) and independent researcher Mark Salvato (BISC study: Annual Butterfly Survey on Elliott Key for the North American Butterfly Association & EVER study: Parasitism of Florida leafwing and Bartram's hairstreak butterfly larvae and pupae) are the FY2014 award winners.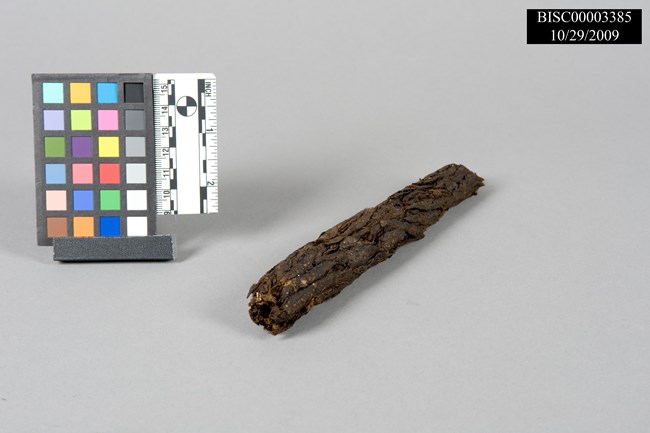 Curator's Choice
Rope fragment from the Nuestra Senora del Populo, a shipwreck in Biscayne National Park. Part of the Spanish fleet, Populo sank in 1733. It was lightly armed with 8-12 cannon and it cargo included indigo, hides, brazilwood, citrus, and tobacco. Organic material like rope can survive for hundreds of years underwater but needs specialized conservation treatment if collected.
New Exhibit Installed at BICY Oasis Visitor Center
SFCMC staff worked with BICY Interpretation staff to develop a new exhibit for the Oasis Visitor Center, using a two-sided exhibit case purchased in 2013. This exhibit features Seminole and Miccosukee dolls, clothing, baskets, and other items from the BICY and EVER museum collection, as well as images from the Florida Memory Project at the Florida State Archives. The exhibit discusses both the challenges and opportunities resulting from the influx of tourism that came with the development of the Tamiami Trail and later I-75 brought, and how the tribes have successfully adapted elements of their traditional arts and crafts while moving beyond tourism to enterprise. Special thanks to Melissa Henneman at BICY and SFCMC Registrar Jennifer Stafford for their important roles in bringing this exhibit to fruition for the Preserve's visitors.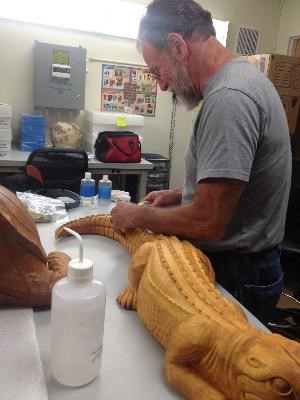 Conservation Corner: BICY, DRTO, and EVER Project
Several conservation projects were untaken in 2014. Conservator Al Levitan was hired to treat the Seminole canoe on exhibit at BICY and the John Segeren carvings from EVER Flamingo Museum (see photos). Another BICY project featured conservation treatment of paper documents and photographs, which will be completed by the Northeast Document Conservation Center (NEDCC) in 2015. Conservator James Swope has begun cleaning the eight Charley Harper paintings in the EVER art collection. That work will be completed by April 2015. The Mudd family tea service, from the DRTO collection, is being treated at the Maryland Archeological Conservation Lab and will be returned in January 2015. In February 2014, the last untreated Rodman gun was conserved at Fort Jefferson, completing a 10-year project to professionally treat the DRTO cannon. For the first time since the 1880s, all ten of these nationally significant guns are in good condition. Thanks to staff, cooperators, and contractors alike who help ensure our collections are preserved for current and future generations.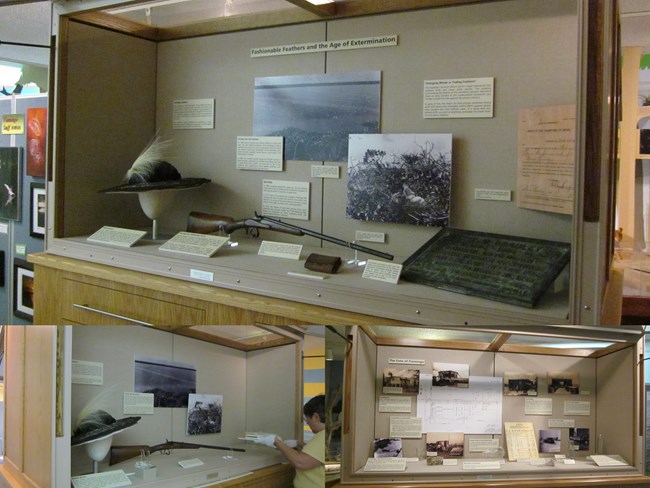 Flamingo Museum Exhibits
SFCMC staff worked with EVER District Interpreter Bob Showler to develop new exhibits for Flamingo Museum, using a two-sided exhibit case purchased in 2013. One exhibit is called "Fashionable Feathers and the Age of Extermination" and features artifacts and photographs associated with the plume trade and Guy
Bradley. The second exhibit is entitled "The Fate of Flamingo" and it examines the history of Old Flamingo and its relationship with Everglades National Park. Featuring historic photographs and other archives, it encourages visitors to think about historic communities in parks and asks the question "Did Old Flamingo have
to go?" Special thanks to former SFCMC intern Linda Geary for her work initially developing the exhibit. Also kudos to the Flamingo maintenance staff for helping with demolition of the old plinth and installing the new floor tiles. A real team effort!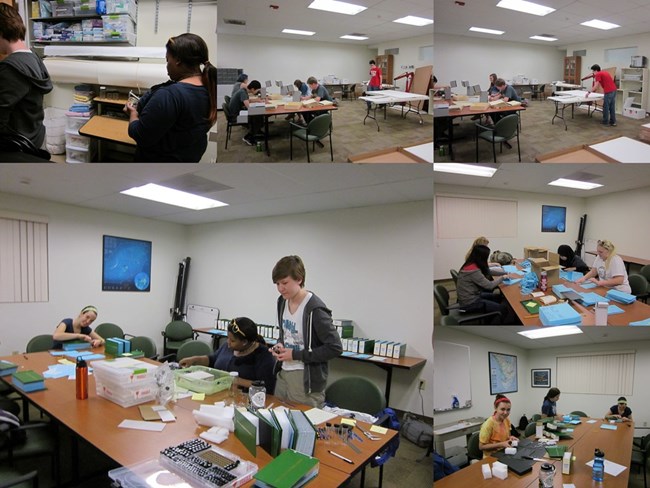 Alternative Spring Break at the SFCMC: Lending a Helping Hand
During March 2014, the SFCMC hostedAlternate Spring Break groups from the University of Wisconsin Madison and Wellesley College. The students assisted Archivist Bonnie Ciolino and Registrar Jennifer Stafford with a variety of tasks, including labeling archival file folders for the EVER Science Records Collection, inventorying the historic photograph collection, re-filing herbarium specimens returned from loan into their appropriate taxonomic order in the storage cabinets, inventorying specimen jars and vials, and organizing and assembling catalog sheets into National Catalog binders. Both groups helped for several days and together they contributed over 280 volunteer hours to the SFCMC. We want to say a big THANK YOU to all the volunteers for their help!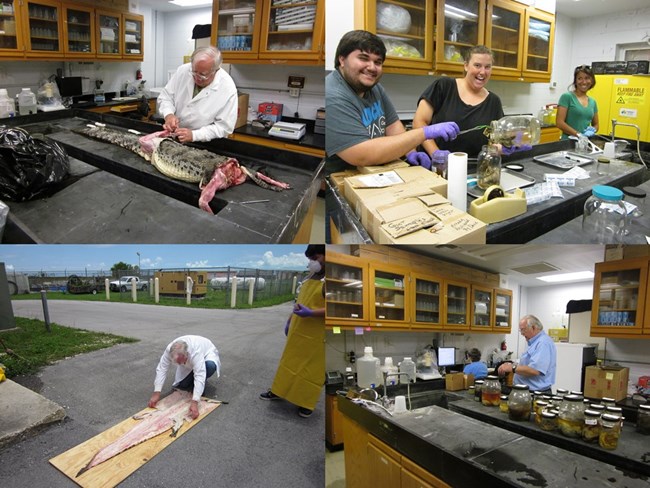 Natural History Training with Greg
In June 2014, the SFCMC welcomed back NPS Senior Curator for Natural History, Greg MacDonald. Greg's visit provided an opportunity for hands-on natural science collections training for SFCMC staff and interns. The work included preparing a crocodile skeleton and hide, and rehousing python gut contents from the python diet analysis study. Greg also processed a very stinky sea turtle for us—he was on his own for that one (some things are just too gross). Thanks Greg!


Archives in Action
This year the South Florida Collections Management Center contracted with The DRS Group of Florida, Inc. to digitize and microfilm 30 linear feet of Records of the Everglades Science Program which were cataloged in FY2012. Records identified for digitization and preservation microfilming include textual records, oversize documents and photographic materials. They include records created by Robert Fennema, Susan Ritter, Dan Scheidt, and Dave Sikkema pertaining to their hydrology research and modeling work. These individuals contributed to projects such as the Central and South Florida Project Comprehensive Review Study (Restudy), the Lake Belt Plan, the Phosphorous Dosing Study, also known as the Nutrient Uptake Study, the Big Cypress Turner River Water Management Plan, and the Experimental Water Deliveries Program. The high quality color digital images that the DRS Group has produced will aid with access to these records, while the microfilm will ensure long term preservation of these important hydrology resource management records.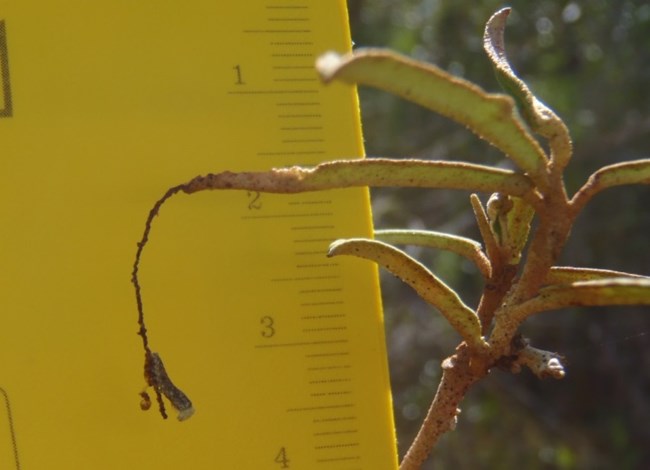 Specimen Highlight
A recent addition to the Everglades National Park museum collection is a frass chain from the endangered Florida leafwing butterfly (see photo). Collected by Botanist Jimi Sadle, this specimen provides an exciting and unique addition to the park's growing collection of fecal material, gut contents, and levage samples from endangered species and exotic animalsalike. Shortly after emerging from its egg, a Florida leafwing (Anaea troglodyta floridalis) larva begins to consume the leaves of its host plant, pineland croton. The newly emerged larva almost immediately begins building a chain consisting of its fecal matter tied together with silk. This
frass chain is attached to the tip of the leaf that is being consumed. When not eating, the young caterpillar then rests at the end of the chain. It is believed that this behavior is a mechanism to avoid predators. Nonetheless, predation is extremely high in this species and host plants are often encountered that have one or more frass chains but no caterpillars. In the past, the Florida leafwing was found in suitable habitat of southeastern Florida and the Florida Keys. Habitat destruction and pesticide use are thought to have led to a range-wide decline and the world-wide distribution of this species is restricted to pine rock lands of Everglades National Park. The material for this collection was made from unoccupied host plants and no caterpillars of this critically endangered species were impacted. Article courtesy of EVER Botanist Jimi Sadle. Thanks, Jimi
Last updated: February 6, 2018