Volume 3, No. 2
South Florida Collections Management Center
Re:Collections
Spring 2013
Busy @ BICY . . .
SFCMC staff members Siobhan Millar, Aaron Seltzer and Jennifer Stafford – with a big assist from BICY Supervisory Park Ranger Chris Derman – have spent a number of days working at BICY this spring. Projects included annual cleaning of the swamp buggy and cultural objects on exhibit at the Welcome Center, reorganizing the archives processing room, improving storage for the Preserve's art collection, and hurricane preparedness. Archivist Bonnie Ciolino has conducted archives appraisals of older records and Archivist Jenna Edwards has been working with the Oil & Gas Office staff to inventory and catalog their records.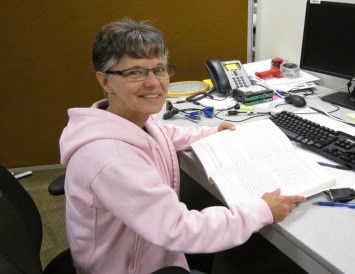 SFCMC Staff Spotlight
Meet Linda Geary
Linda Geary has been volunteering one day a week at the SFCMC since January 2013. Beginning in May, Linda will be receiving credit for her work towards her graduate certificate in museum studies at Florida International University.

Linda is leading the development of a new exhibit at Flamingo Museum, while gaining a variety of other experiences. A fifth generation Floridian, Linda is interested in Florida history and prehistory. She received her B.A. in Archaeology from University of West Florida in 2011 and works for the Archaeology and Historical Conservancy. Linda also has a B.S. in Photography from Texas A & M Commerce, TX, and owned and operated a commercial photo lab for 15 years in her hometown of Stuart. Linda is excited about being located so close to the keys this summer and is anticipating spending her free time snorkeling, bicycling and kayaking.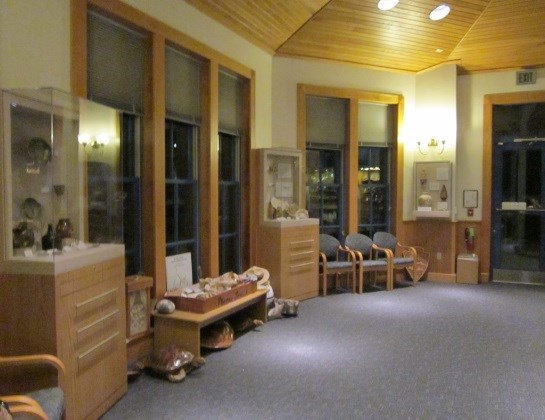 BISC Shipwreck Artifacts on Exhibit at BISC Dante Fascell VC
For the first time, shipwreck artifacts from the park's museum collection are on exhibit at the visitor center. The SFCMC received project funding to purchase museum-quality exhibit cases, which had to be custom-made to fit available space. The exhibits were developed in-house by a team of SFCMC and BISC staff, led by Jennifer Stafford and Chuck Lawson. Two standing cases feature artifacts from the HMS Fowey and the English China Wreck. Two smaller wall-mounted cases will be used for changing exhibits. The current exhibits feature
Florida 500, celebrating the 500th anniversary of Juan Ponce de León's arrival in Florida, and the damage looting does to archeological sites. Future expansion of the exhibits will include the addition of artifacts from the wreck sites in the "discovery drawers" within the bases of the standing cases. Special thanks to the Southeast Archaeological Center (thank you Hank and Charlie!), Castillo De San Marcos National Monument and BISC interpretive staff for contributions to the exhibit development. If you have not been to BISC lately, stop by and see what's new!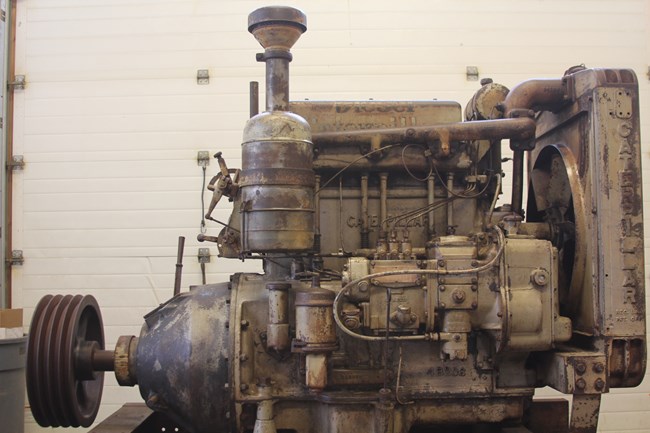 Conservation
Two big conservation projects were recently completely for SFCMC collections.
The logging generator from the BICY museum collection was recently treated by Brian Howard & Associates. In addition the mural depicting De Soto's March was recently completed by Conservator George Schwartz of ConservArt, Inc. Previous water damage and a later attempt to stain the unfinished wood had resulted in both structural problems and visual detractions from artist Dan Feaser's work. The treated painting has been returned to exhibit at the DESO.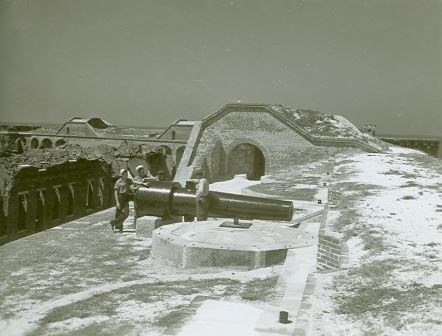 Archives in Action
SFCMC staff has been corresponding with Mary and Wally Elms about DRTO events. Wally was the site manager at the park from 1960-1963, an interesting time for the park and our nation. We look forward to hearing more about DRTO during the Cuban Missile Crisis and the decision to tear down the quarters. When asked about how the cannon in this photo was mounted, Mary said that Wally did it himself with a jack and paint from the Navy. Director Wirth came to the fort for a visit. Wally hoped for more encouragement and funding to continue treating the guns but Wirth criticized Wally for the cannon being on its side!
DESO Emergency Planning
In February SFCMC Curator Nancy Russell worked with park staff and contractor (and former NPS SERO chief of museum services) Allen Bohnert to develop a Museum Emergency Operations Plan (MEOP) for DESO. The site visit including evaluating risks and developing written procedures to protect collections where possible and respond safely to a variety of risks. The plan, completed in May 2013, is the first MEOP for the park.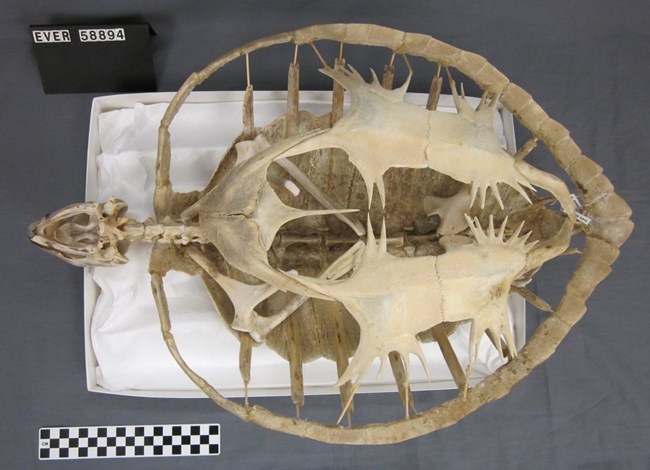 Specimen Highlight
Several EVER natural history specimens prepared by the Florida Museum of Natural History (FLMNH) were recently returned to the SFCMC, including a crocodile skull, three partially articulated skeletons of green sea turtles and two Burmese python hides. Our partner Dr. Kenney Krysko and his team at FLMNH did a great job!
Last updated: February 6, 2018