Volume 3, No. 1
South Florida Collections Management Center
Re:Collections
Winter 2013
What's New . . .
Beginning in 2013, the South Florida Collections Management Center (SFCMC) is instituting an annual White Glove Award program. The award(s) will be given to the scientific research and collecting permit principal investigator(s) meeting his or her curatorial responsibilities in regards to submission of project records and/or specimen collection without nagging, pleading, cajoling by the SFCMC registrar, and associated permit holdup by a park's permit coordinator. The award comes with a framed certificate, our deep gratitude, knowledge that the collections and associated data will be preserved, and bragging rights—which is better than cash!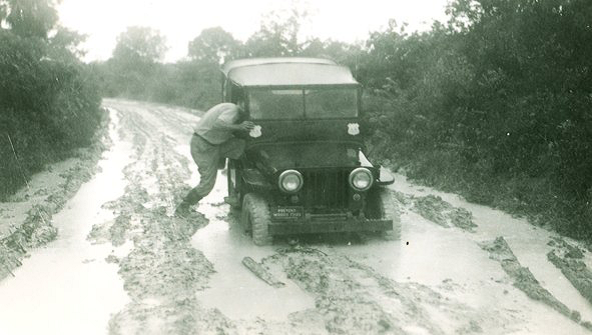 Archives in Action
Processing, arranging, and cataloging work under the History Associates Inc. contract continues through FY 2013. Lynn Moulton, the new HAI contractor, cataloged 17 linear feet (LF) of the Everglades Science Records and recently started the Biscayne National Park Boat Grounding Program Records. These exciting records include photographs, documents, and audiovisual materials that document boat groundings and associated restoration efforts in BISC. We look forward to having these important records cataloged and available for research.
Coming Soon!
Author and photographer Bill Lea has worked with the Everglades photograph collection to find historic images of old Flamingo, Royal Palm, and the old Ingraham Highway to augment his latest book, The Everglades-Where Wonders Only Whisper. Lea pairs contemporary images of wildlife and landscapes with historic photographs to provide context for the park's rich history. The publication includes historic images by eminent NPS photographers George Grant, Abbie Rowe, and Arthur Fawcett.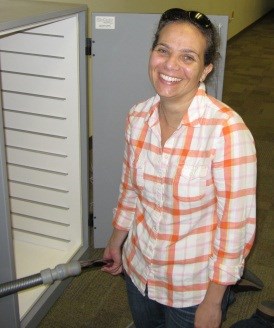 SFCMC Staff Spotlight
Meet Siobhan Millar
Siobhan began her tenure with the SFCMC in May 2007 as a GS-1016-05 museum technician. She's currently in her third year as a GS-1016-07 term technician. She is regularly on the go, as part of her responsibilities for monitoring the collection. One of her favorite objects in the EVER collection is the giant coconut from Cape Sable.
Prior to returning to school for a graduate certificate in museum studies from Florida International University, Siobhan was a graphic designer/illustrator for almost 15 years. She is originally from Jamaica and has the accent to prove it, frequently pronouncing the word "water" as "wau-tuh", much to the amusement of many Beard Center staff (AKA Beardies). Siobhan enjoys painting, kayaking, hiking, cooking, and travel.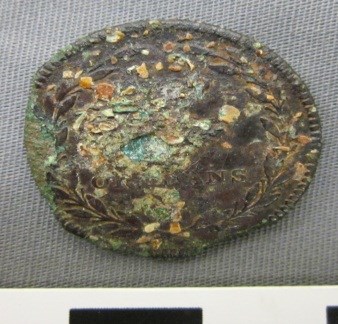 Specimen Spotlight: Cultural
On January 8th, 1815, then General Andrew Jackson defeated British forces advancing towards New Orleans in what would be the decisive battle of the War of 1812, demonstrating to the world that the United States had the military might to defend its young democracy. Jackson's victory at what would become known as the Battle of New Orleans is commemorated at the Chalmette Battlefield Unit of Jean Lafitte National Historic Park (JELA). In a precursor to political advertisements, Jackson had small tokens minted to remind the American public of his victory at New Orleans during his failed 1824 bid for the presidency (Jackson would win the office in 1828). Minted in 1824, this token has an embossed bust of Jackson on its face and the words "Hero of New Orleans" on the reverse. During the 2012 archeological field season at EVER, one of these tokens was found by Archeological Technician Paul O'Dell and Botanist Jimi Sadle at a site occupied by the US military in 1838 during the Second Seminole War. Who brought the token there, where they got it, and why they left it behind may never be known, but finding this object has renewed hope that this archeological site was not destroyed by hurricanes and it may yet yield information about the Seminole War history of the Everglades. Testing at the site is planned for the 2013 season.
Farewell Friends
Congratulations to Mark Lewis, superintendent at BISC, and Keith Whisenant, deputy superintendent at EVER on their retirements in November and December 2012, respectively. We also want to congratulate Scott Pardue, superintendent of DESO who accepted a position as the safety and wellness program manager for the NPS Pacific West Region. We enjoyed working with each of them and cannot express how much their support benefitted the collections and the SFCMC. Thanks and best wishes!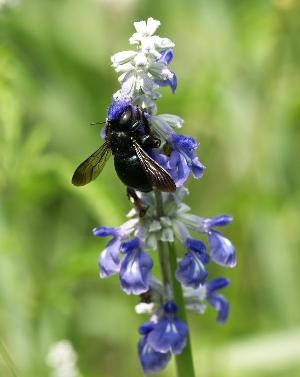 Specimen Spotlight: Natural History
Carpenter bees are common visitors to Biscayne and other South Florida parks. They get their name from their habit of nesting in wood, and generally prefer soft wood species as nesting sites. While there are several hundred species of carpenter bees, Xylocopa micans is one of the most common in South Florida. At BISC, carpenter bees can be seen visiting many native wild flowers like Melilotus and Galactia spp., and can be easily identified by their metallic bluish to greenish colors. In evolutionary ecology, carpenters have been important in the study of the highly organized social structure of bee colonies. As honeybees decline in number, the role of carpenters as pollinators will become increasingly important. The specimen at left was collected by Akers Pence (Florida Museum of Natural History) during the 2010 Bioblitz conducted at BISC.
Collaboration
In November 2012, Museum Registrar Jennifer Stafford visited the lab and collection storage area of Dr. Joel Trexler at Florida International University's Biscayne Bay Campus. Dr. Trexler and the SFCMC are working on cataloging thousands of specimens collected under four permitted studies at EVER extending back for decades, including those related to Everglades restoration.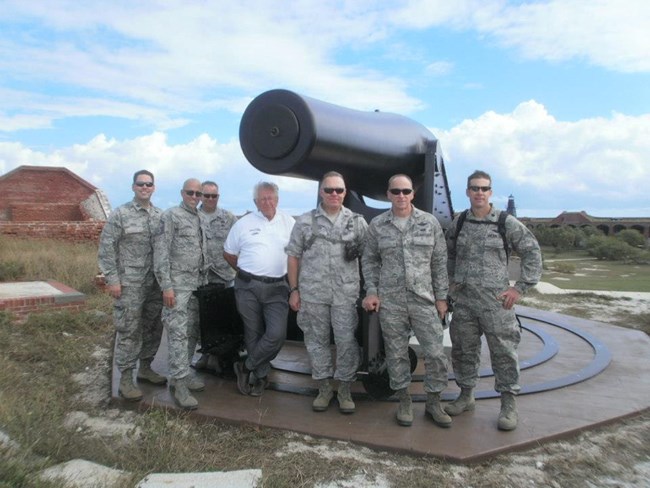 482nd Returns for DRTO Cannon Work
The 482nd Civil Engineers Squadron completed another tour of duty at Fort Jefferson, January 8-20, 2013. Retirees and active-duty reservists worked together to create four concrete platforms to mount the 25-ton Rodman guns, and completed staining of the platforms built in 2010 and 2011. They also completed work for the park's maintenance division. As usual, the squadron finished the mission and then some! For more information about the project and the squadron's legacy at the park.

Thanks again to the 482nd for all of their fantastic work!
Last updated: February 6, 2018