Volume 2, No. 4
South Florida Collections Management Center
Re:Collections
Fall 2012
Coming Soon . . .
The SFCMC has been working with BICY, BISC, and EVER staff to improve exhibits and make collections more accessible. Cultural cyclic funding in FY2011 and FY2012 has enabled the SFCMC to contract for the construction of new conservation-quality museum exhibit cases for these parks. The BISC cases will provide the first opportunity the park has had to exhibit shipwreck artifacts in the Dante Fascell Visitor Center and we are coordinating the exhibit with Cultural Resource Manager Charles Lawson and BISC interpretation staff. Likewise, the new exhibit case at the BICY Oasis Visitor Center will provide new opportunities for changing exhibits that feature the preserve's cultural history. The SFCMC and BICY staff have an ambitious exhibit schedule planned for the next two years. Finally, a new exhibit case will be installed at the Flamingo Museum in EVER. That exhibit will feature the history of the Old Flamingo fishing village. Unfortunately, all of these cases are going to arrive at the same time so SFCMC staff will be scrambling to get exhibits completed and installed in FY2013.
"Stand Back" Week
SFCMC staff is taking a "stand back" week at the start of FY2013. The goal is to review our vision, mission, goals and objectives, our policies and planning documents, and our daily processes to ensure that we are implementing best practices and doing all we can to care for your collections.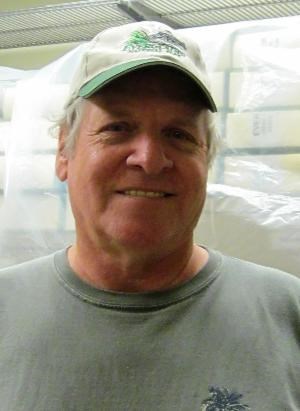 SFCMC Staff Spotlight
Meet Our Volunteers
Bob Gross, recently retired from the military, is our newest volunteer. Bob comes two days a week and has helped with a variety of tasks, including prepping for TS Isaac, installing much-needed storage shelving & re-foldering archival materials. Bob is pretty much agreeable to do anything we ask, as long as it doesn't include snakes….Wanita Balutis and Jonathan Bernal come to volunteer as the school calendar permits permits. While they and other family members have volunteered in other areas of EVER, for the SFCMC they have put in hours and hours of tedious work organizing our National Catalog binders. The National Catalog binders contain printed copies of the catalog records for BICY, BISC, DESO, DRTO, & EVER. This fall Jonathan is a freshman at Florida International University. This project could not have been completed with them. THANK YOU, THANK YOU, THANK YOU . . .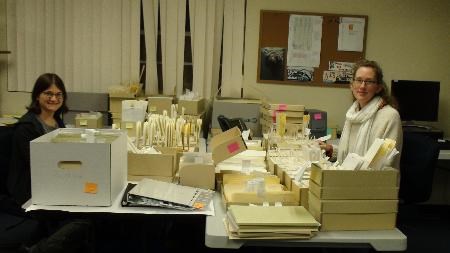 DESO Backlog Cataloging
The backlog of uncataloged collections for De Soto National Memorial has been eliminated! The SFCMC and SEAC have worked towards this goal over the past couple of years, making a final push in FY2012 possible, if ambitious. Due to the coordinated efforts of Archives Technician Lynn Moulton, Intern Meg Eastwood, Archivist Jenna Edwards, Museum Technician Siobhan Millar, and Volunteers Jean Schardt and Bob Gross, all 141,759 archival, cultural and natural collections are now cataloged and accessible to researchers. FY2012 archives cataloging work included processing, arranging and describing c. 16,000 prints, negatives, and digital images as well as paper records. Thanks everyone for making this possible. One park backlog down and four to go!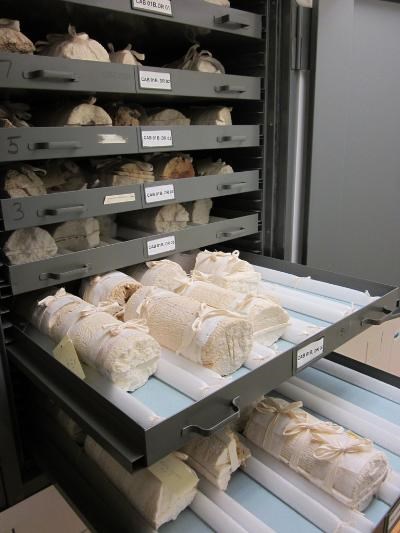 Conservation Corner
Re-housing the BISC Hudson coral core collection was recently completed by Museum Technician Adel Pena. The collection, consisting of more than 500 pieces, was part of an important ecological study conducted at Biscayne National Park in the 1980s by the U.S. Geological Survey. The purpose of the study was to measure how anthropogenic pressures have affected growth rates of Montastraea annularis over time. The slabbed cores, ranging from 40 to 240 years, were received in wooden crates and each core was secured with duct tape. Staff carefully removed the old tape individually labeled and covered the adhesive with a non-stick Remay fabric. All cores were marked with catalog numbers and placed into new custom-made drawer inserts. Although Adel finished the project, Museum Tech Siobhan Millar and Volunteer Jean Schart also worked on the project over the past couple of years as time allowed. We are thrilled that this important collection now has a permanent home.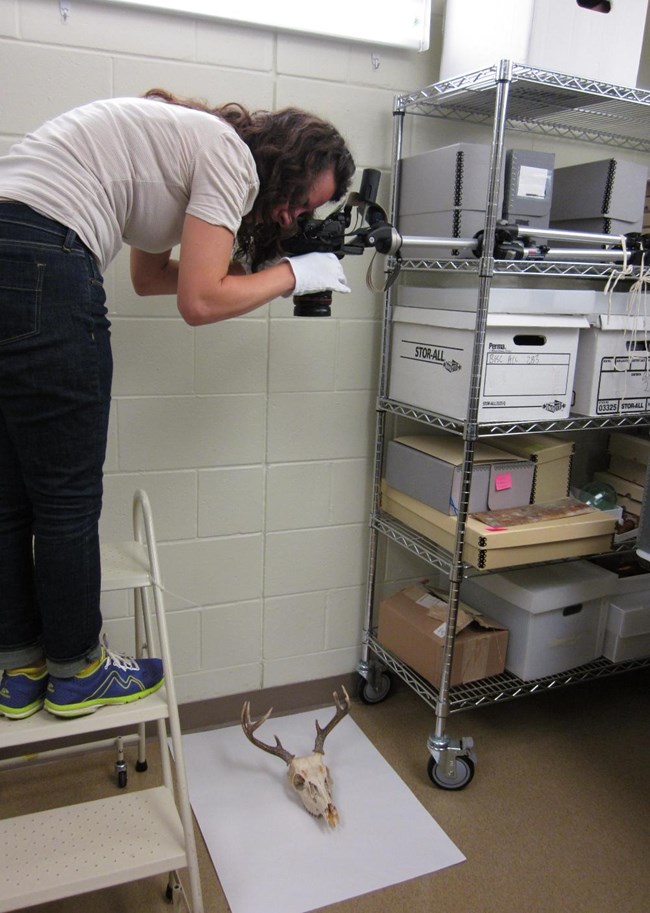 Specimen Spotlight
Leah Sobsey, an artist and educator from the University of North Carolina, Greensboro, spent a week at the SFCMC in July photo-graphing natural history specimens in the collections of BICY, BISC, DESO, DRTO & EVER (including coral, alligator skulls, eggs and herbarium sheets). Leah has worked at other NPS units to create photographs which are a mixture of art, science and digital virtuosity. Her work can be viewed at: http://www.leahsobsey.com/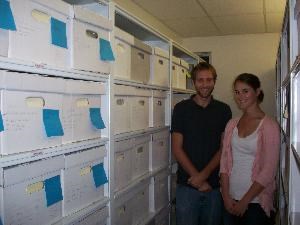 Archives in Action
During FY2012, Michael Folkerts and Colleen Benoit, contract employees with History Associates, Inc. were stationed at the SFCMC to process, arrange, and catalog EVER archives. During their eleven months on site, they cataloged 103.2 linear feet (LF) of archives in the Records of the Everglades Science Program collection. Their work provides greater intellectual control, enhanced preservation, and increased accessibility for records created by directors of the South Florida Research Center/South Florida Natural Resources Center and hydrology program records. Of particular interest and importance to the park's restoration efforts are the records created during the U.S. vs. South Florida Water Management District Water quality lawsuit and the phosphorus dosing study conducted from 1982-1984. Thanks for your hard work! In FY2013 HAI Contractor Lynn Moulton will continue archives cataloging work for BICY, BISC, and EVER collections.
DRTO Cannon Project Featured
Waterways Episode 265, Fort Jefferson Preservation, has been released to 38 television stations in central and south Florida. The film features the fort stabilization work and the cannon conservation and mounting project. The film can be viewed at http://youtu.be/M5VqlcHxD90
Kudos for DRTO Researchers
Hundreds of studies are conducted in SFCMC parks each year under NPS scientific research & collecting permits. The SFCMC works with researchers to ensure specimens are cataloged and submitted to the museum. Sometimes there are challenges in getting permit deliverables or in the quality of the cataloging data received. One research project, however, stands out from the crowd. The SFCMC staff wishes to extend a big THANK YOU to Kristen M. Hart & Autumn R. Sartain of the U.S. Geological Survey Southeast Ecological Science Center (Davie, Florida) for prompt submission of data and excellent cataloging work. You make our jobs easier and we appreciate it!
Last updated: February 6, 2018