Volume 1, No. 1
South Florida Collections Management Center
Re:Collections
Fall 2010
What's New . . .
This is! Welcome to the first edition of Re:Collections, a publication of the South Florida Collections Management Center. The goal is to improve communication between the SFCMC and the five South Florida parks it serves. Re:Collections will be a quarterly newsletter for NPS staff and interested partners. It provides an opportunity to share information about the museum collections and to educate staff about working with the museum staff and collections. We hope you enjoy it. Future topics will include new acquisitions, From the Archives, Collection Quiz, and special projects.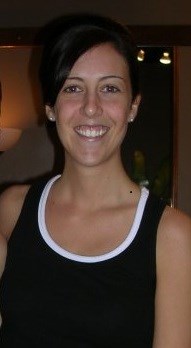 SFCMC Staff Spotlight
Meet Jenna Edwards! Jenna is the SFCMC's new term project archivist. She started at the SFCMC in June 2010. Jenna is originally from Ohio but comes to us from National Capital Parks East. Please welcome her to the center.

Jenna is the project archivist for backlog cataloging projects funded under a national Flexible Park Base initiative. The initiative is planned to run from FY11-FY13, pending approval of the full $30 million funding target. The SFCMC's portion of that funding is c. $1.8 million over three years. EVER and DRTO are receiving Flexible Park Base funds in FY11 to continue cataloging the backlog of archives. If funding continues, BICY and BISC will also receive funds in FY12-FY13.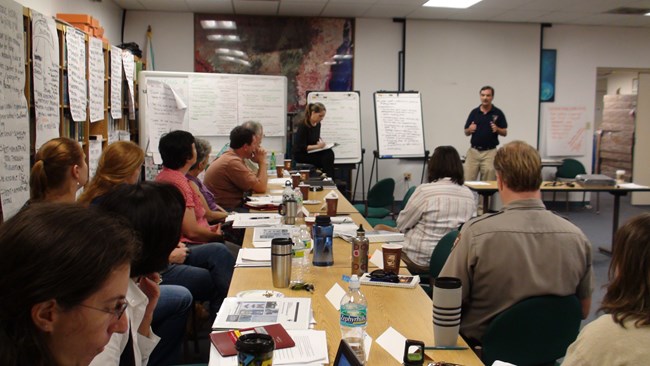 SFCMC Begins Strategic Planning Process
The SFCMC hosted a strategic planning meeting August 3-6, 2010. Over the course of the event, the meeting was attended by 40 people from the five South Florida parks, the Washington Office (WASO), the Southeast Regional Office (SERO), partners, and other invited guests. The meeting was facilitated by Michelle Villalobos. Meeting participants evaluated the SFCMC's existing vision, mission, goals and objectives. They determined appropriate roles and functions for the multi-park center. Break out groups addressed best practices by discipline (e.g., natural science, interpretation, cultural resources, program management, etc.) as well as identifying park-specific museum needs.
Stay Tuned . . .
The information gathered during the meeting will be drafted into a strategic plan which will be sent out for review in April 2011. In the meantime, the SFCMC has already begun implementing recommendations from the meeting—like developing this newsletter! We are listening and together we can continue to make collections more relevant, accessible and useful for resource management at our parks.
Conservation Corner
Ensuring the preservation of museum collections in perpetuity is a key responsibility of the SFCMC. Museum staff conducts routine preventive conservation, including environmental monitoring, pest management, museum housekeeping, and storage improvements, among other activities. It is sometimes necessary, however, to conduct interventive conservation treatments. This work can range from stabilization through to restoration in extreme cases and is completed by highly trained conservators. In all instances, treatment of museum objects must meet American Institute for Conservation (AIC) standards. The SFCMC received PMIS project funding in FY2010 for a wide range of conservation projects for multi-park collections. These included:
Conservation of swamp buggy (BICY)

Conservation of arquebus barrel (DESO)
Conservation of cannon (DRTO)
Conservation of Cuban artifacts (DRTO)
Conservation of HM-69 Nike missile base signs (EVER)
Conservation of Bernard P. Thomas mural (EVER)

Preservation duplication of acetate negatives (SFCMC)
New Projects in FY2011
Conservation of cannon (DRTO)
Artwork collection condition survey (SFCMC)
Museum security & fire protections survey (BICY)
Replace museum exhibit cases (BICY)
Microfilm resource management records (EVER)
Records Management Training
The SFCMC is hosting a FREE multi-park "Records Management for Program Managers" training at BICY and EVER. Donna Read, senior records analyst at the National Archives, is the course instructor. The 3-hour classes run 9am-noon on 11/30 at BICY and 12/1 at EVER, and 1pm-4pm on 12/14 at EVER. This training is mandatory for EVER & DRTO PMT and program managers.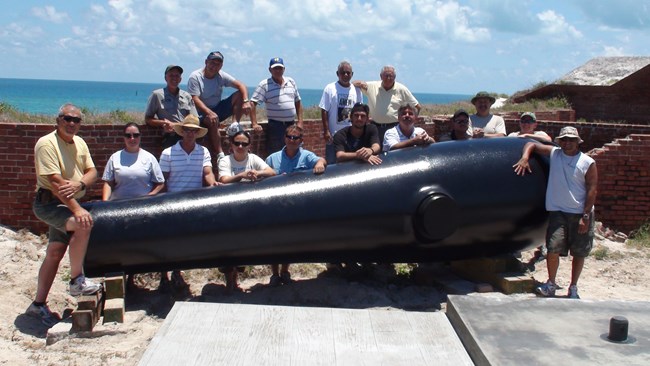 Air Force Reserves Assist with Cannon Project
The 482nd Civil Engineers Squadron of the Homestead Air Reserves Base continued their 30 year tradition of conducting exercises at Dry Tortugas National Park. In June 2010, active duty and retired reservists conducted a joint mission to reconstruct a Rodman gun platform at Fort Jefferson.
The 482nd worked with the SFCMC curator to plan and implement this project, which was funded through the park's entrance fees. The work was conducted as part of a project to mount the 25-ton cannon on a full reproduction carriage for the park's 75th anniversary event in November 2010. Special thanks to the 482nd, Blue Douglass and Tree Gottshall for making this project happen!
De Soto National Memorial Expands Exhibits
De Soto National Memorial staff is working to provide expanded museum exhibit space within the existing visitor center. The park's theatre is being renovated to provide a changing exhibit space. Drywall and new carpet has been installed and the space painted. Other facility improvements will provide increased security and storm protection, as well as new lighting. The SFCMC is coordinating purchase of conservation-grade exhibit cases and will work with the park on future changing exhibits. Many thanks to Scott, Chuck, and the rest of the DESO staff for all their efforts!
Last updated: February 5, 2018