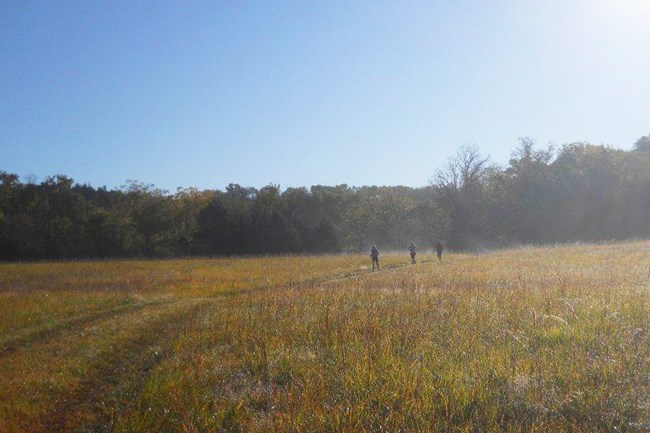 Date: June 8, 2015
Contact: Email Us
WASHINGTON. DC: The Oregon and California National Historic Trails are among 37 national park sites selected to receive a 2015Active Trails grant from the National Park Foundation, the official charity of America's national parks. Now in its seventh year, the Active Trails program supports healthy living by getting people out and active in national parks through projects that help restore, protect, and/or create land and water trails across the country. The grant expands on the successes of the 2014 Active Trails project at Alcove Spring Park, a special site on the two national historic trails, by supporting local community and volunteer groups in building or renovating segments of historic and recreational trail. The park, located in Marshall County, Kansas, will also host several outdoor public events this year, including two trail runs and a full day of activities on-site leading up to a performance of the Topeka Symphony Orchestra.
"The Active Trails program not only provides invaluable support to the Alcove Spring Historical Trust in their mission to protect and develop Alcove Spring for public use, but also invites the local community and others to engage in the park in new ways. The program's emphasis on volunteerism and physical activity in the park adds some exciting reasons to visit this important trail site," said Aaron Mahr, Superintendent of the Oregon and California National Historic Trails.
Since 2008, the National Park Foundation has granted more than $2.8 million through its Active Trails program. As of 2014, Active Trails has engaged more than 11,000 volunteers and 579 project partners who combined have contributed more than 60,000 hours to help promote, refurbish or build national park trails.
"Through our Active Trails program, people are discovering that parks are great places to have fun, give back, and exercise," said Susan Newton, senior vice president of grants &programs at the National Park Foundation. "As we move into the second century of the National Park Service and look to connect all people to America's treasured places through our Find Your Park movement, programs like Active Trails are engaging people across the country and helping them find their own unique connections to parks."
"Trails are literal pathways to better health," said National Park Service Director Jonathan B. Jarvis. "These National Park Foundation grants will help protect, restore, and create trails in national parks, both urban and rural, that are essential to our physical and mental health as places of recreation, inspiration, and reflection."
The entire list of the 2015 Active Trails recipients can be found here.
The National Park Foundation wishes to thank The Coca-Cola Company and Subaru of America for their generous support of the Active Trails program.
ABOUT THE NATIONAL PARK SERVICE
More than 20,000 National Park Service employees care for America's 407 national parks and work with communities across the nation to help preserve local history and create close-to-home recreational opportunities. Learn more at www.nps.gov.
ABOUT THE NATIONAL PARK FOUNDATION
The National Park Foundation is the official charity of America's national parks and nonprofit partner to the National Park Service.Chartered by Congress in 1967, the National Park Foundation raises private funds to help PROTECT more than 84 million acres of national parks through critical conservation and preservation efforts, CONNECT all Americans with their incomparable natural landscapes, vibrant culture and rich history, and INSPIRE the next generation of park stewards.Find out more and become a part of the national park community at www.nationalparks.org
To learn more about the national historic trails visit:


California National Historic Trail
Oregon National Historic Trail