Learn about the Hidden History of the Trail of Tears at Laughlin Park in Waynesville, Missouri: Seven Wayside Exhibits Unveiled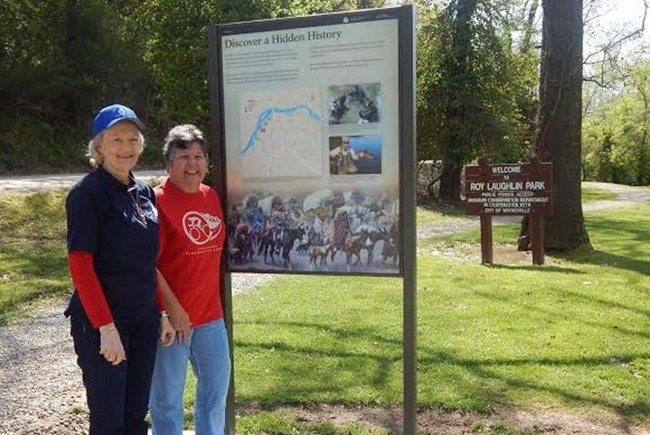 Date: May 27, 2015
WAYNESVILLE, Missouri: Seven new wayside exhibits will be unveiled at Roubidoux Springs in Laughlin Park on Friday, June 19th, 2015 at 9 a.m. Following the dedication will be a reception with refreshments. After the reception, guests are invited to view the new waysides and take a walk through the park, the site of a historic Cherokee removal campsite, to the historic Trail of Tears crossing at Roubidoux Creek.
The unveiling event celebrates the continuing effort by the National Park Service and its partners to preserve and develop the national historic trail for increased public awareness and use. Participating in the event will be partners and officials from the Cherokee Nation, the 2015 Cherokee Remember the Removal bike riders, the Missouri Chapter of the Trail of Tears Association (TOTA), the City of Waynesville, and Pulaski County Tourism Bureau.
After the event, everyone is invited to wish the 2015 Cherokee bike riders safe travels as they continue their ride west along the Northern Route of the Trail of Tears. The Remember the Removal ride is an annual event where Cherokee youth retrace, by bike, nearly 1,000 miles of the Trail of Tears National Historic Trail from Georgia to Oklahoma.
The Trail of Tears National Historic Trail commemorates the United States government's forced removal of the Cherokee Indians from their traditional homelands in Georgia, Tennessee, North Carolina, and Alabama to Indian Territory in present-day Oklahoma in 1838 and 1839. Over 600 miles of the trail stretch across 26 counties in southern Missouri, and include three separate routes: the Northern Route, the Hildebrand Route, and the Benge Route. The newly installed wayside exhibits are located along the Northern Route.
Congress designated the Trail of Tears National Historic Trail as part of the National Trails System in 1987, and the NPS National Trails Intermountain Region is responsible for working with communities and partners to preserve and develop the trail. The Trail of Tears National Historic Trail is one of six national historic trails in Missouri.
The unveiling will be held rain or shine.
Visit the following websites to learn more about the Trail of Tears Association, the Trail of Tears National Historic Trail, and the National Trails System:
Trail of Tears Association:
Trail of Tears National Historic Trail:
Last updated: October 14, 2016