Interpretation & Education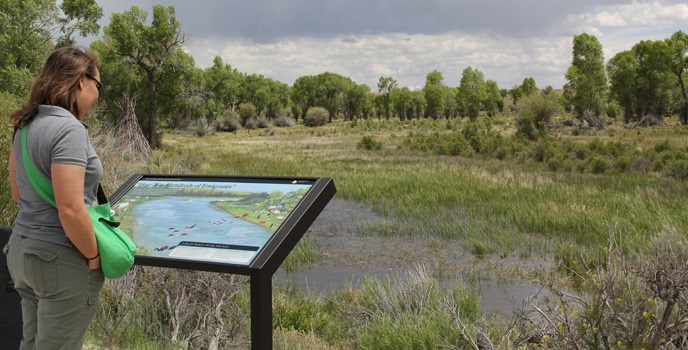 The interpretation team provides assistance to a wide range of trail partners. We develop interpretive media, personal services, planning, and education services for nine national historic trails and the Route 66 Corridor Preservation Program.
Why Use Interpretation?
Interpretation translates the meanings of a place through media or personal services to help visitors understand and relate to a site or story. Interpretation helps build intellectual and emotional connections between visitors and resources, encouraging them to care about and connect to a site.
Technical Assistance Provided
Interpretive Planning
Developing the best types of visitor services for your site
Strategies for responding to visitor requests for media and information
Analyzing your audience and reaching out to diverse groups
Strategic planning for visitor experiences as a part of trail development
Incorporating interpretation into your organization's planning documents
Providing an interpretive planning, design, and project management package
Providing Opportunities for Visitor Use and Enjoyment
Creating and providing a range of media including: websites, publications, wayside exhibits, videos, educational activities, and smartphone mobile applications
Participating in the Passport to Your National Parks program
Enhancing trip planning and map features on websites and mobile applications
Harnessing new technologies to tell your stories in new ways
Meeting ADA requirements and utilizing the best practices of universal design
Engaging the public through social media
Developing innovative techniques for sharing your story
Capacity-building: Developing Interpretation for Trail Sites
Sustainability, record keeping, and maintenance of interpretive media and services
Tips for special events and public relations
Building connections and working with local communities to share your story
Understanding the principles of interpretive writing
Writing themes, goals, and objectives
Training in interpretive skills
Last updated: March 20, 2023