Surveillance
The Public Risk Management Program (PRMP) analyzes mortality data to identify trends, leading causes of death, and high-risk populations. We use this information to guide and prioritize national level injury prevention efforts. Parks can use this information to develop injury prevention programs at the park/local level.

While injury rates in national parks are very low compared to inury rates in the U.S., injuries can and do happen when visitors are unprepared, exceed their experience or fitness level, or do not understand or heed hazard warnings. Being aware of the common causes of injuries in parks can help visitors understand the hazards associated with their activities (swimming, driving, hiking, etc.) and be better prepared before they go. We encourage visitors to use the NPS Trip Planning Guide before their trip to find out about key safety considerations and how to avoid some of the most common mistakes that can lead to injury when visiting national parks.
NPS Servicewide CY2014-CY2016 Mortality Dashboard
The NPS Mortality Dashboard provides a synopsis of death statistics reported in the NPS between calendar year 2014 and 2016. One hundred and forty three (143) of four hundred and nineteen (419) park units reported one or more deaths during this three-year period. The mortality dataset excludes on-duty NPS staff, volunteers, contractors and concessioners. PRMP aggregates mortality data from a variety of NPS systems as well as media reports.[1]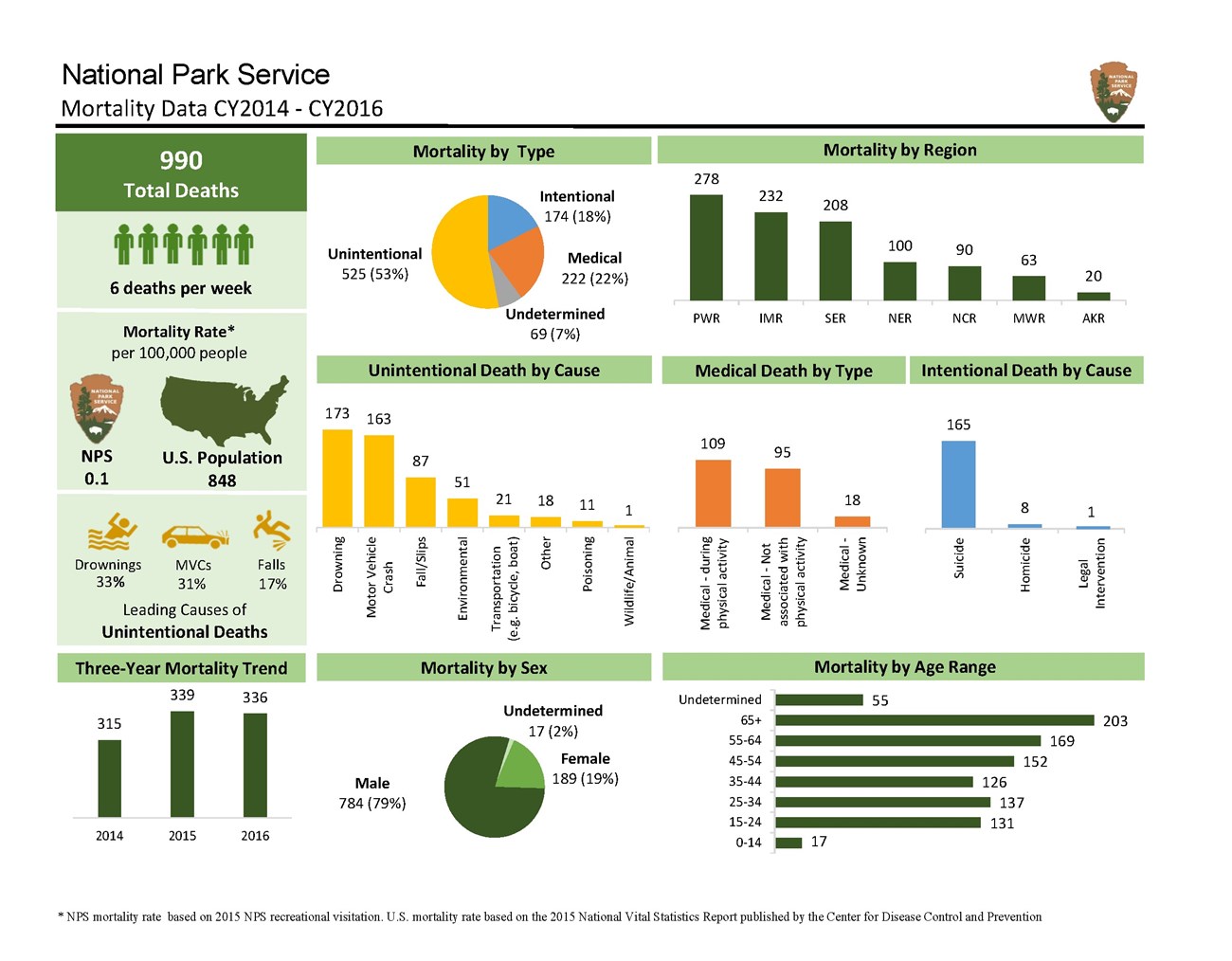 Key Mortality Statistics:
A total of 990 deaths were reported in national parks from 2014 to 2016 which results in an average of 330 deaths per year or six (6) deaths a week

The NPS mortality rate is 0.1 deaths/100,000 recreation visits which is very low when compared to the mortality rate of the overall U.S. population (844 deaths/100,000 people)[2]

The majority of all deaths (79%) occurred among males

Over half of all deaths (53%) are due to unintentional causes (e.g. drowning, motor vehicle crash)

About half of medical deaths (49%) occurred while the individual was engaged in a physical activity (e.g. hiking, biking, swimming)

Suicides account for 95% of all reported intentional deaths
Suicides are a national public health concern. The objective of collecting and analyzing suicide data is to start and support an informed discussion about suicides in national parks. If you are in crisis, call the toll-free National Suicide Prevention Lifeline at 1-800-273-TALK (8255), available 24 hours a day, 7 days a week. The service is available to anyone. All calls are confidential. http://www.suicidepreventionlifeline.org



FILES:
NPS Servicewide CY14-16 Mortality Dashboard
Data Dictionary
Key Statistics

The Mortality Data is available for download on the FOIA FAQs page. These are the best available data at the time of collection by PRMP. PRMP aggregates data from NPS systems that are updated continuously. If queried today, data from the same time period might be slightly different. For additional inquiries and requests related to the NPS mortality data, please submit a Freedom of Information Act (FOIA) request. Please be detailed in your request to help us identify if the data you are seeking exists and if it can be disclosed under the FOIA.

[1] The mortality data file for 2014-2016 was closed out on December 8, 2017. Please note that systems update continuously and if queried today, data from the same time period might be slightly different.
[2]NPS mortality rate based on 2015 NPS recreational visitation. U.S. mortality rate based on the 2015 National Vital Statistics Report published by the Center for Disease Control and Prevention
Last updated: November 16, 2022