Museum Program / Museum Resource Center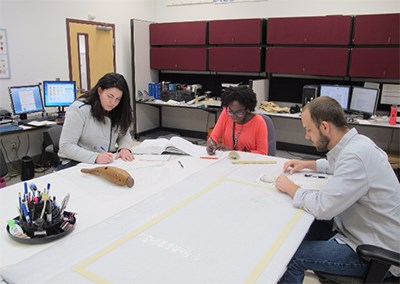 The National Park Service, National Capital Area's museum program is located at the Museum Resource Center (MRCE) in Landover, Maryland. MRCE curators, archivists, and support staff care for museum collections and provide support to park units that promotes the long-term care of museum objects, including accountability, preservation, training, exhibits, research, acquisition, accreditation, and new technologies. Cultural and natural history collections tell us about the world we live in, and through them, we are connected to the past, present, and each other.
For more information, please contact
Laura Anderson
, Regional Curator and Director of the Museum Resource Center, and if you need assistance from Resource Stewardship and Science (RESS), you may submit a
Solution for Technical Assistance Requests (STAR)
request online (NPS Only).
Projects
Collections Management Plans (CMP) / Museum Emergency Operations Plans (MEOP)
Prince William Forest Park, Virginia -
CMPs and MEOPs are primary planning documents for park museum collections. These documents are site specific and provide park management guidance on handling their collections. The CMP/MEOP recently completed for Prince William Forest Park is the first combined plan for an NPS park (2017).
Museum Collections Storage
Museum Resource Center, Landover, MD -
MRCE recently installed two compact shelving systems each of which can store up to 2,600 linear feet of archival materials. Such units dramatically reduce the storage footprint and improve access to collections (2018).
Links
Last updated: October 18, 2019