Historic Architecture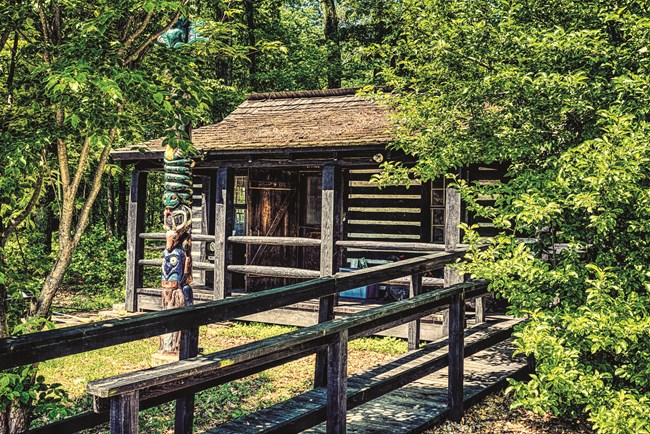 Overview
Historic architecture includes buildings, bridges, tunnels, statues, and other structures that create tangible links to the American past, whether in relation to historical events and people, traditional ways of life, architectural design, or methods of construction. The regional program draws on technical and historical knowledge of architectural styles, engineering, materials, and methods of historic preservation. Its work involves documenting and preserving buildings and structures ranging from scarcely visible culverts to national memorials and NPS visitor centers. Historic structures in nearby national parks include the White House and the statuary of President's Park, the Washington Monument, Jefferson Memorial and Lincoln Memorial at the National Mall, the CCC-era cabin camps at Catoctin Mountain Park and Prince William Forest Park, and the home of Frederick Douglass at National Capital Parks - East.
The Architectural Conservation Program aids National Capital Region parks in the care and management of their historic resources in a variety of ways including the creation of condition assessments and treatment plans, advising on the planning and management of conservation projects and projects creating or updating baseline documentation for park resources, providing training for park staff and volunteers in routine conservation and preventive maintenance treatments, and consulting on and reviewing project compliance for Section 106.
Contact
Please contact Julie McGilvray, Preservation Services Program Manager, for more information about the Historic Architecture program. For more information about the Architectural Conservation program, please contact Courtney Magill, Architectural Conservator. If you need assistance from Resource Stewardship and Science (RESS), you may submit a Solution for Technical Assistance Requests (STAR) request online (NPS Only).
Projects
Historic Structure Reports (HSRs)
Historic Structure Reports provide baseline documentation, condition assessments, and treatment recommendations for historic buildings and structures for park management. This can include new Historic American Building (HABS) drawings (or similar as-built drawings), photographs, 3D scans, and other digital files.

Historic Structures in the Cultural Resources Inventory System (HS-CRIS; formerly the List of Classified Structures)
The HS-CRIS database was created to document and assess the condition of historic buildings and structures. HS-CRIS also provides associated geospatial information for historic buildings and structures and allows the NPS to meet federal requirements of Section 110 of the National Historic Preservation Act, as amended.

Preservation Maintenance Plans (PMPs)
Preservation Maintenance Plans provide guidance about the care and maintenance of historic structures for park management. These plans create a system for prioritizing maintenance tasks that consider the most vulnerable and character-defining elements and usually include schedules, baseline documentation, written procedures, record-keeping guidelines, and other similar tools.
Links
NCR Historic Structure Reports
Last updated: April 4, 2022