Archeology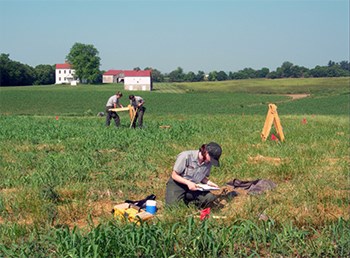 Overview
The parks in and around our nation's capital hold the archeological remains of more than 13,000 years of human history in the Mid-Atlantic. These include prehistoric workshops, quarries, campsites, and villages; historic plantations, houses, kilns, mills, forges, foundries, and canals; and Civil War battlefields, fortifications, and campgrounds. The Regional Archeology Program (RAP) studies and preserves park archeological sites and collections. The RAP's activities include locating new archeological sites; evaluating the significance of sites for possible nomination to the National Register of Historic Places; processing, cataloging, analyzing, and caring for archeological collections; fostering volunteer work and public education; and protecting and preserving archeology under federal historic preservation laws.
Contact
Please contact Joshua Torres, for more information. If you need assistance from Resource Stewardship and Science (RESS), you may submit a Solution for Technical Assistance Requests (STAR) request online (NPS Only).
Links
The Archaeological Resources Protection Act of 1979 requires that information about the locations and nature of archeological resources remain confidential to avoid the risk of harming them. For this reason, only documents created expressly for public access are available here.
Last updated: September 14, 2023