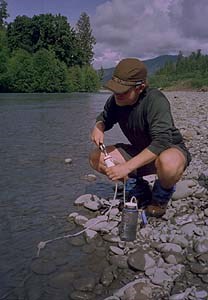 Treat All Drinking Water! Water is readily available in most areas of the park, though there are exceptions. On higher ridges and in some areas along the coastal strip, water may be hard to find during late summer. Inquire about water sources. Water from coastal streams typically has a harmless "tea" stain from root tannins but contains invisible microorganisms that can cause illness.
Giardia lambia is a protozoan that can cause mild to severe diarrhea or severe intestinal distress requiring medical treatment. Giardia could exist in any water source in the Olympics.

Cryptosporidium is another protozoan found in some coastal water sources. Ingesting the parasite can cause diarrhea, vomiting, and cramps necessitating medical treatment. Iodine and chlorine are ineffective water treatment methods for cryptosporidium! Disinfection with chlorine dioxide has a low to moderate effectiveness in killing Cryptosporidium.

Boiling (one full minute at a rolling boil) or proper filtering are the only reliably effective methods of water treatment on the coast. For water collected in the interior of the park, iodine and chlorine may be used to treat giardia and other microorganisms.

Carry a large collapsible water container in addition to a smaller water bottle. Use the larger container to collect water when in camp. Treat water from this container to minimize trips and damage to the streamside or lake shore.