Olympic National Park - Wilderness Camping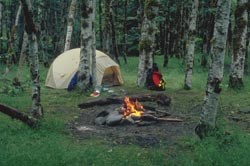 Campsites
Camp in preexisting, bare ground sites when traveling along trails. For cross-country travel, camp on durable surfaces such as snow, rock or river gravel bars.
Over a thousand campsites can be found along the park's trails. Along trail corridors, camping is limited to existing, established campsites, which are usually devoid of vegetation. In some areas, designated sites are marked with a tent symbol on a post. Signs indicating "Group Camp" are for seven or more people. No camping is allowed within 1 mile of any trailhead.
The era of "campcraft" is past. Leave your saw, ax, nails and shovel at home. Instead, see how well you can Leave No Trace of your stay. Do not trench around your tent to assist drainage of rain water. This practice encourages erosion. Instead of constructing benches or other camp improvements, enjoy the site as is.
In some camp areas, major revegetation projects have restored damage from overuse. To allow planted perimeters to regrow, focus your activities inside the campsite. Please don't walk on or place camp gear atop replanted areas.
When traveling cross-country, camp on rock, snow or other durable surfaces. If these surfaces are not available, dry meadow sedges and grasses are the most resilient species for camping. Avoid trampling heather and huckleberry, which can take many decades to recover. Camping on river gravel bars or on the ocean beach are low-impact options. Be sure your tent is placed above high waterline!
Campfires - To protect vegetation and soils, campfires are not allowed above 3,500 feet or in some high-use areas below that elevation.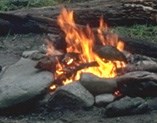 As an alternative to campfires, you are encouraged to use a stove in the wilderness. This minimizes the impact on soils and vegetation, and reduces the risk of an escaped campfire. Campfires are not allowed above 3,500 feet elevation (with a few exceptions), nor in other selected areas (Ozette area north of Yellow Banks to the headland at Wedding Rocks, Elk Lake and Three Lakes areas). At higher elevations, and in heavily-used camp areas at lower elevations, firewood is scarce. Firewood gathering can result in compacted soils and braided social trails through fragile vegetation. Wood that naturally decomposes is no longer present to contribute organic matter to the soil. During very dry periods, the use of open fires may be prohibited in all areas of the wilderness.
If you build a fire, use the minimum amount of wood. Gather only dead and down firewood and be aware of your impact on living vegetation and soils. Choose smaller pieces of wood, no thicker than your wrist. Sawing or chopping wood from larger pieces leaves long-lasting signs of your presence. Large logs dragged into the fire do not burn well, tend to be very smoky and present a fire hazard from retained embers. Before leaving camp, make sure your fire is dead out by pouring water on it, stirring it with a small stick and checking for remaining heat with the back of your hand.
Where fires are permitted, build them only in established fire rings and keep them small. Fire rings often become quite large, dominating campsites and turning into trash receptacles and eyesores. If you must build up a fire ring to protect the fire from wind, dismantle it to a single layer of rocks when you leave. Broadcast the extra rocks well away from the campsite. Consider carrying a wind screen, which can also reflect heat toward you and divert the smoke away.
Do not use fire to dispose of waste unless it can be burned completely. Better yet, plan on packing out all of your garbage and trash. Foil-lined food wrappers, plastics, tea bags, uneaten food and other items burn incompletely or not at all. Cigarette butts should be field stripped and filters packed out.
The Campsite Check Many wilderness travelers perform "the campsite check" before they leave their campsite. This activity allows the visitor to take a good look and check to see if their actions have had a negative impact on wildlife, plant life or other visitors.
Look for overturned rocks, flattened flowers or plants, bits of garbage or food, or any other sign that someone has camped there.
Strive to leave the wilderness as you found it, or better.


Last updated: March 31, 2012