The Pacific Northwest National Scenic Trail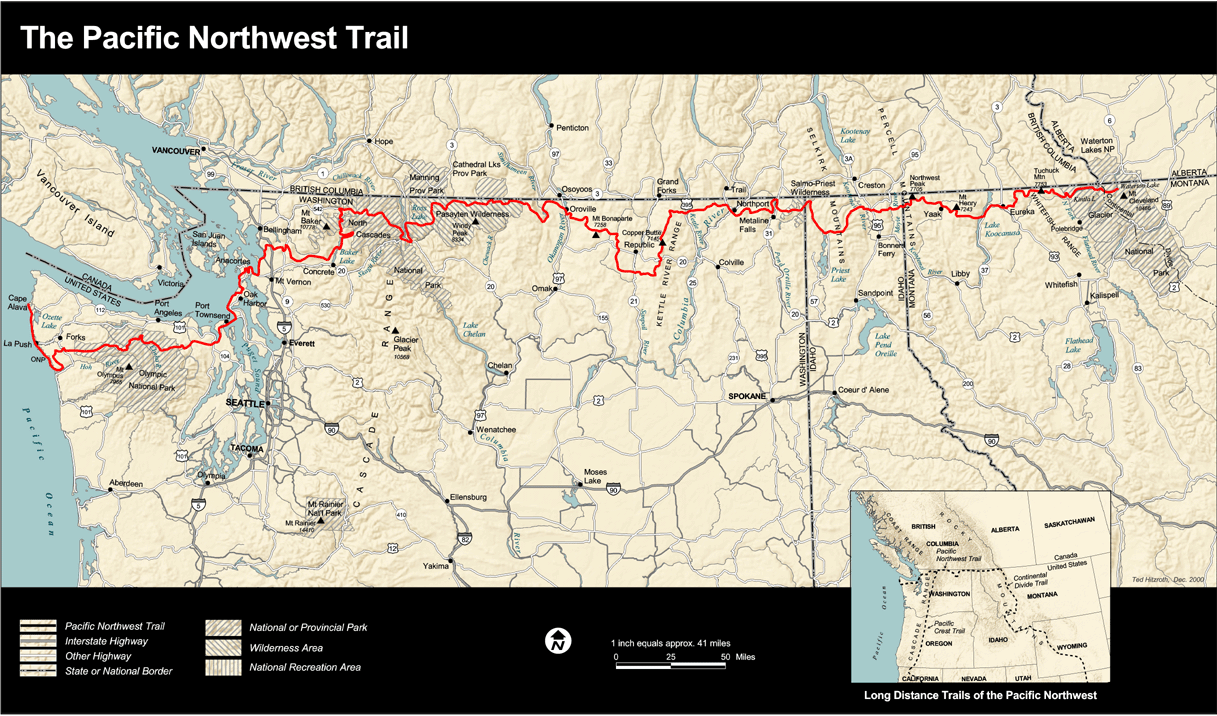 The Pacific Northwest National Scenic Trail (PNNST) travels 1,200 miles through Montana, Idaho, and Washington, from near the Continental Divide in Glacier National Park to the Pacific Ocean on Washington's Olympic Peninsula. About 130 miles of the trail passes through Olympic National Park including 38 miles on Olympic's Wilderness Coast, the longest stretch of wilderness coast in the contiguous 48 states.
Camping along the PNNST within Olympic National Park.
The Olympic National Park is one of the wildest and most used wilderness parks with over 100,000 camper nights per year. To reduce impact and ensure the same wilderness experience for everyone, we require that all backpackers get a backpacking permit and follow standard regulations. When PNNST hikers camp without a permit or at sites that they are not permitted for, they impact other visitors who do have permits by over-filling camps and forcing groups to share camps when they were expecting a greater degree of solitude. The quality of every visitor's wilderness experience is impacted when regulations and Leave No Trace principles are not followed.
What permit(s) do I need to travel on the PNNST through Olympic National Park?
All overnight camping within Olympic National Park requires a wilderness camping permit issued by The Park. The PNNST passes through two areas, the Sol Duc/Seven Lakes Basin and the Ozette Coast, where permits are limited; permits are not limited elsewhere along the Pacific Northwest Trail. All permits are $8 per adult per night for those 16 years of age and older. Thru hikers may also consider getting our $45 Wilderness Annual Pass if staying seven or more nights in Olympic's Wilderness.
Reservation Areas
Red camps on our Campsite Map including the Sol Duc/Seven Lakes Basin area southwest of Port Angeles and the Ozette Coast from Yellowbanks north through Cape Alava have limited availability. Permits must be obtained in advance(before you arrive at the trailhead) via a reservation request or in person within 24 hours of your trip at the Port Angeles WIC or Quinault Rain Forest Ranger Station on North Shore Road. Submitting a reservation request does not guarantee a permit. In reservation areas, camping is limited to designated sites. If you have completed a reservation form in advance and it was approved, we can arrange to email or fax you your permit if you are not passing through Port Angeles or Quinault.
Non-Reservation Areas
Permits for non-limited use areas (brown camps on Campsite Map) can be obtained at any time from our WIC or if rangers are available, we can set them up over the phone and e-mail them to you. Due to high visitation numbers, phone messages can take over 24 hours to return during the busy summer season. In non-quota areas, camping in established sites is always encouraged, but dispersed camping is permitted on durable surfaces with a wilderness camping permit. Camping is not permitted at trailheads; you must camp at least one mile beyond trailheads. If campsites are full and you can't avoid camping on fragile vegetation, you need to move on until you find somewhere suitable to camp. Always practice Leave No Trace.
Most PNNST hikers call the WIC from Port Townsend, WA to set up their permit over the phone. The WIC will then email the permit to the hiker and they can carry the permit downloaded to their phone. We can also fax the paper permit if they call from a location where they can receive a fax.

Most PNNST hikers also opt to hike through the limited use (camping quota) areas like the Sol Duc/High Divide area to avoid having to camp there on specific nights. This makes for a more flexible trip through the park. Appleton Pass camp to the Bogachiel River (21-Mile area) is about 16 miles.
Heading West
PNNST hikers often don't arrange permits until arriving in Port Townsend. Being able to reserve a spot in a quota area a few days before you arrive is unlikely due to the popularity of those areas. We may be able to e-mail a permit to print once your reservation has been processed but you will not be allowed to stay overnight in the Sol Duc or Ozette Coast quota areas without a confirmed reservation from the WIC. Reservations are taken starting March 15th and often fill up early; please consider sending in a reservation form well in advance of arriving on the Peninsula.
We recommend thru-hikers hike between Appleton Pass and 21-mile camp on the Bogachiel River in one day to avoid the limited use area in the Sol Duc/High Divide area. Obtaining a reservation a few days ahead of time is highly unlikely due to the popularity of the area.
Heading East
For those backpackers starting at Cape Alava, permits should be picked up at the Port Angeles Wilderness Information Center or the Quinualt Rain Forest Ranger Station in advance. Permits are not available at the Ozette Ranger Station and the Forks WIC is closed.
Food Storage
Proper food storage is essential in Olympic National Park. Bear canisters are required for all food, garbage, scented items and beverages other than water in the Sol Duc area (Sol Duc side of Appleton Pass to Mink Lake trail junction on Little Divide) and along the entire wilderness coast. In other areas, food must be stored in bear canisters or hung 12 feet high and 10 feet out from the nearest tree. In areas where food cannot be hung properly, such as those above the tree line, food must be stored in bear canisters. We check out bear canisters when available at the Port Angeles WIC or Quinault Rain Forest Ranger Station or they can also be rented from private establishments. More>
For more information about backpacking in Olympic National Park please visit our Wilderness Trip Planner.
Please follow Leave No Trace whenever visiting Olympic National Park to protect our national resource for generations to come.
Where can I learn more about the Pacific Northwest Trail?
The Pacific Northwest Trail Association website is the central source for PNNST information, including planning a PNNST journey, trail conditions along the length of the trail, maps and guides, and volunteering to help maintain and manage the PNNST.
Last updated: June 24, 2023