Mountain Goat Capture and Translocation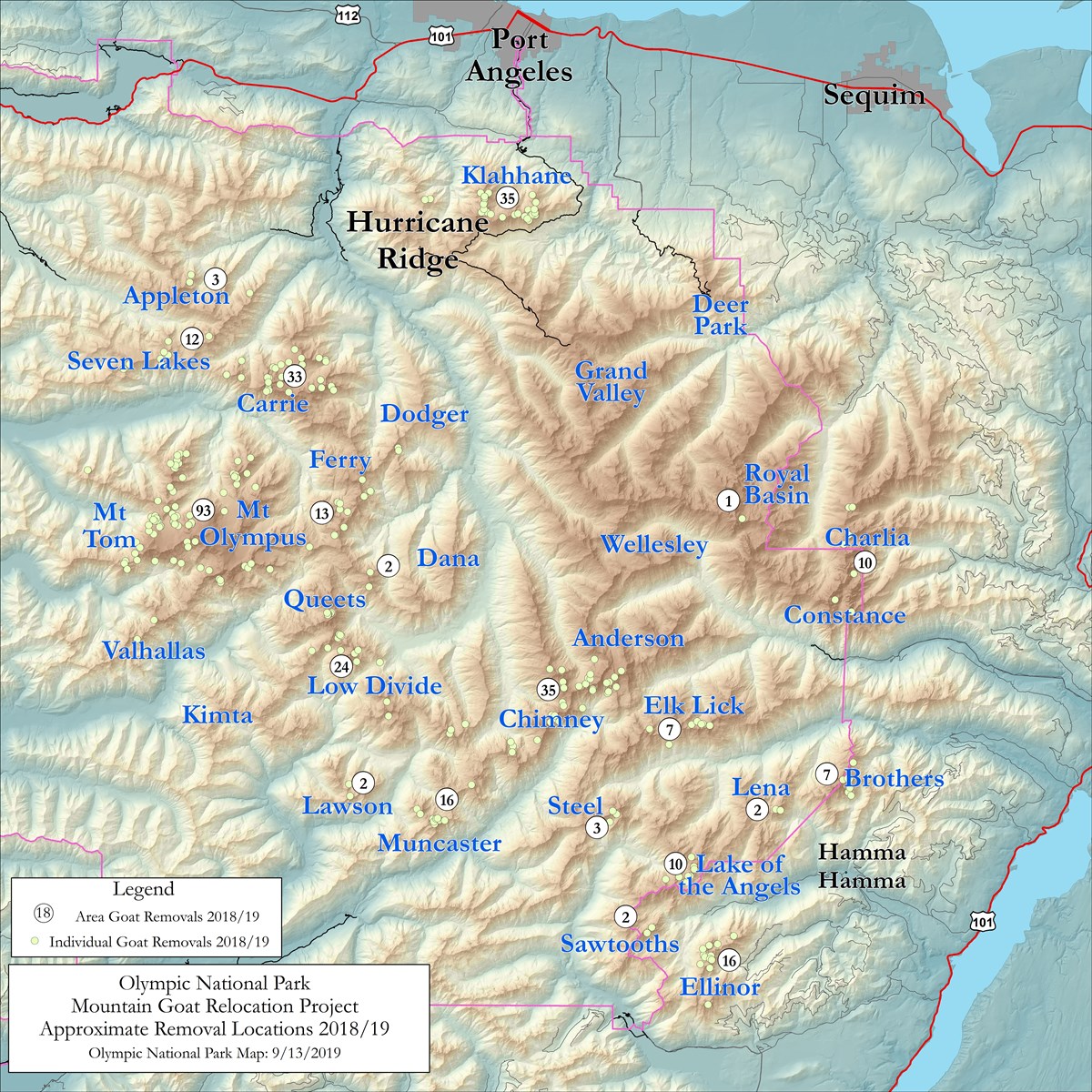 2019 Capture and Translocation Complete: Additional two-week period is planned for summer 2020
Overall Project Results (September 2018 to September 2019)

| | | | | | | |
| --- | --- | --- | --- | --- | --- | --- |
| Total Mountain Goats Removed | Translocated to Cascades | Transferred to Zoo | Capture Mortalities | Euthanized | Transport Mortalities | Lethally Removed |
| 326 | 275 | 16 | 18 | 6 | 3 | 8 |


Joint NPS-USFS-WDFW News Releases
August 2019 Summary
Capture and translocation operations are now complete for 2019 with 101 mountain goats moved from Olympic National Park and Olympic National Forest to the northern Cascade Mountains. Since September 2018, a total of 275 mountain goats have been translocated. An additional two-week capture and translocation period is planned for summer 2020.


Visitor Impacts for Summer 2020 Operation
Hurricane Ridge Area
Hurricane Hill Road (beyond the Hurricane Ridge Visitor Center parking lot) will be closed to all access during the operational period which is planned for late July/earlyAugust. The road closure will begin at the far end of the Hurricane Ridge Visitor Center parking area during mobilization, capture operations, and demobilization. This closure includes the Hurricane Hill Trail, Little River Trail, and Wolf Creek Trail.
-------------------------------------------------
Open Trails at Hurricane Ridge:
Cirque Rim - 0.5 mile easy paved trail with mountain and water views.

Big Meadow - 0.25-mile easy, paved trail with nice mountain views.

High Ridge - 0.5-mile loop climbs 220 feet to 360-degree views.

Sunrise Point - 0.1-mile spur to an overlook; from High Ridge trail.

Klahhane Ridge/Sunrise Ridge Trail - 2.8 miles to Klahhane Switchback trail.

Switchback (lower section), Lake Angeles and Heather Park Trails

Obstruction Point Road and trails
------------------------------------------------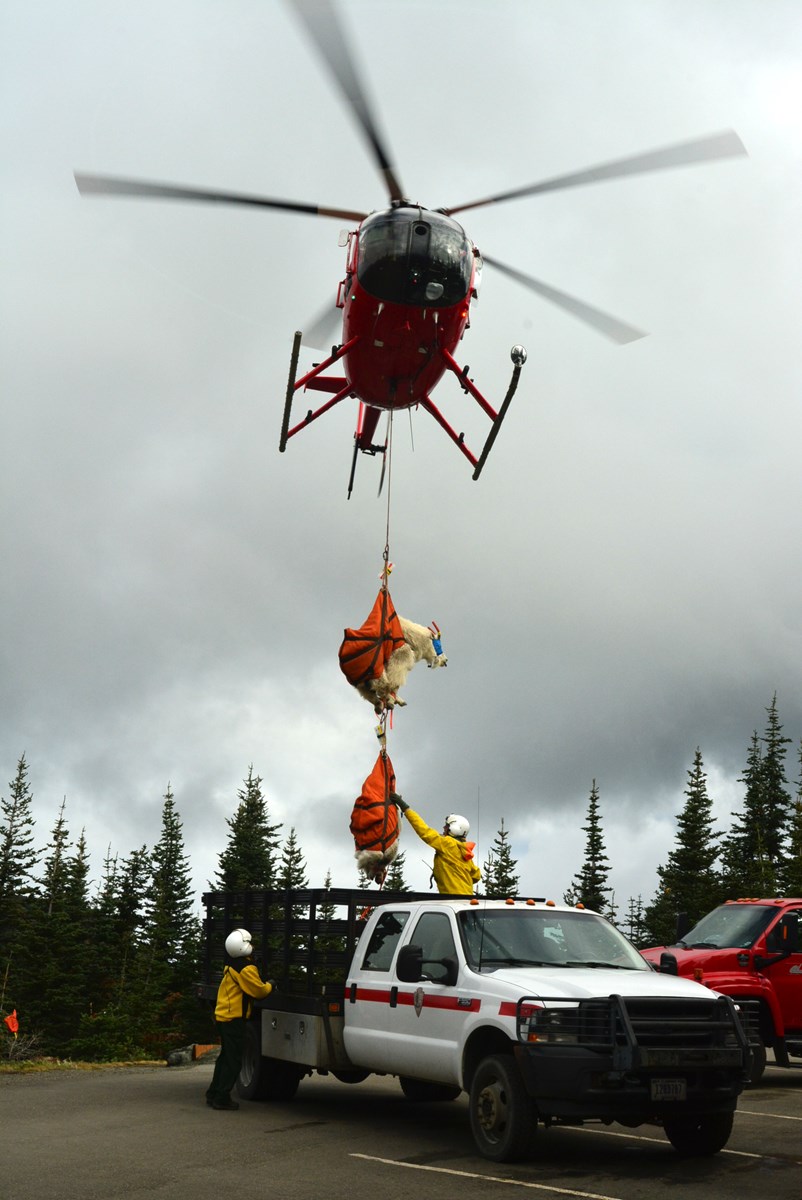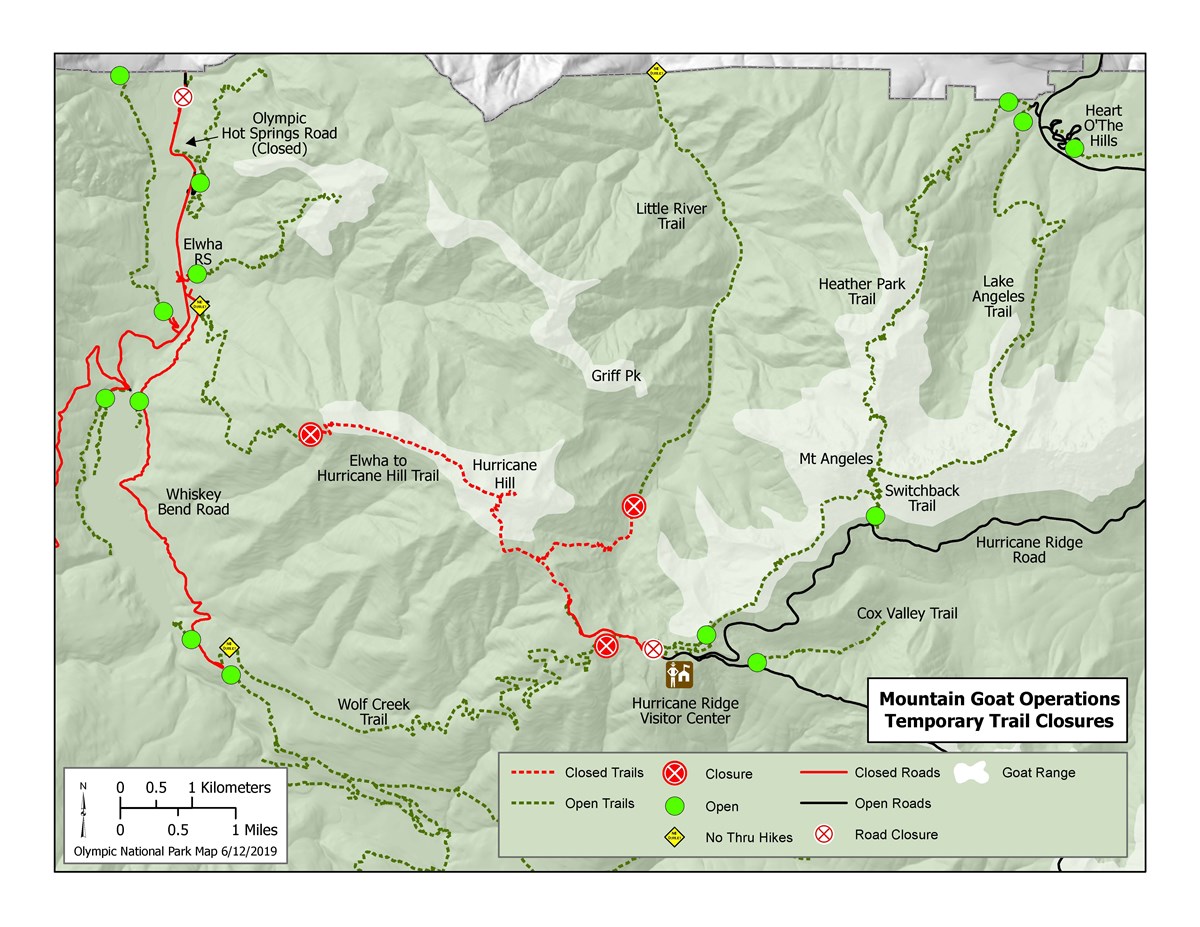 Project Background
The National Park Service released its Record of Decision (ROD) for the Mountain Goat Management Plan/Final Environmental Impact Statement (EIS) in late June 2018. The United States Forest Service (USFS) signed its ROD in December 2018, which allows the mountain goat capture and translocation activities to now include USFS wilderness.
While mountain goats are not native to the Olympic Peninsula, they are native to the North Cascades Mountains but exist in low numbers in many areas. Both the USFS and the WDFW have long been interested in restoring mountain goats to these depleted areas.
The EIS, ROD, and other reference documents can be found on the NPS Planning Environment and Public Comment (PEPC) website at
https://parkplanning.nps.gov/OLYMgoat
.
2018 Operation Summary
The 2-week capture activities ended September 23 and the final translocation by the Washington Department of Fish & Wildlife took place on September 24. A total of 115 mountain goats were removed from the park. The Washington Department of Fish & Wildlife (WDFW) only translocated mountain goats from the park to the non-wilderness release sites within the North Cascades national forests during this first round.
A short video on the mountain goat removal and translocation efforts between the Olympic and Cascade mountains.

Duration:

3 minutes, 56 seconds
Last updated: September 19, 2019