Summer 2022 Bugler Newspaper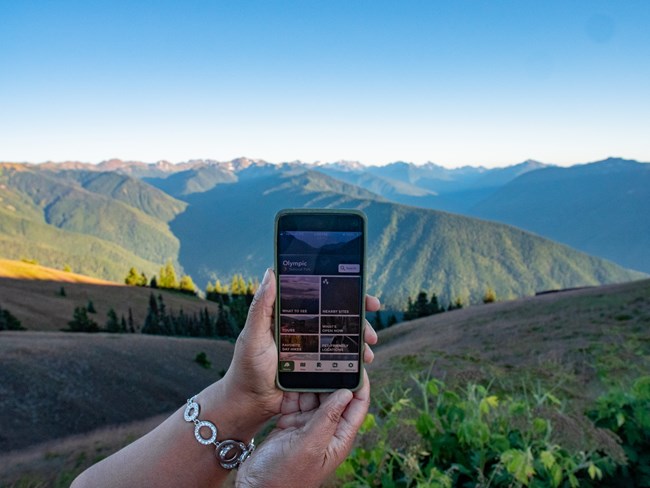 Going Mobile: Olympic Gets an App
"What is there to do here?"
"Where can I go with my dog?
"Are there any nice day hikes near here?
"Where is the bathroom?"
These are by far the most common questions rangers answer every day, but Olympic is a big park! What if there's no ranger nearby to give you the answers?
Enter the NPS app.
Created by park staff for visitors like you, the official NPS app can tell you what's open, what to do in the park, where you can take your pet, places to go with a wheelchair, and even exactly where to find the nearest restroom.
Want to try it out? Scroll down for easy instructions. You're about to have park ranger wisdom at your fingertips!
You may be wondering: What is this abomination? Should a national park even
have
an app? Is nature becoming hopelessly technologized?
Rest assured, we're not installing trailside popup ads or hiring ranger-bots any time soon. Just like you, we value preserving those peaceful, safe experiences in nature that allow some relief from our increasingly busy lives.
But we also know that our mobile devices are an undeniable part of modern life, and making it easier to get accurate information about the park can only benefit visitors. Why not use these tools?
Our hope is that the NPS app will allow you to be more present while you're enjoying the park. The logistical side of your trip will be simplified when you use the app to research what you want to do, avoid closures and hazards, and navigate easily and safely to the places you choose. With all of that taken care of, you'll have more time and energy to appreciate the best moments, take the park in, and enjoy.
This Changes Everything
The NPS app is about to take your national park experience to a new level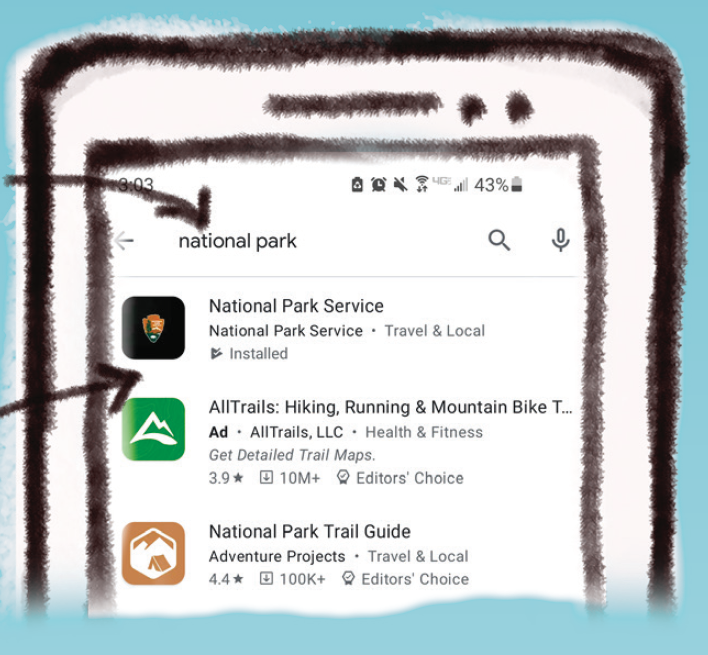 Get the app
Search for "National Park Service." That's the name of the app. Look for the arrowhead on a black background.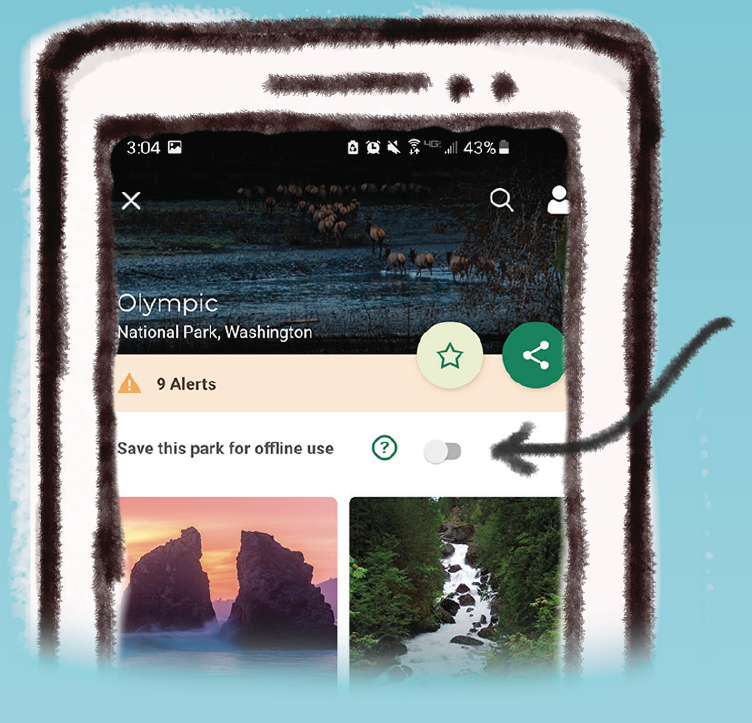 Make the app work outside cell signal
When you first download the app, you'll see this option. Hit "save this park for offline use" while you're still connected to wifi or mobile data.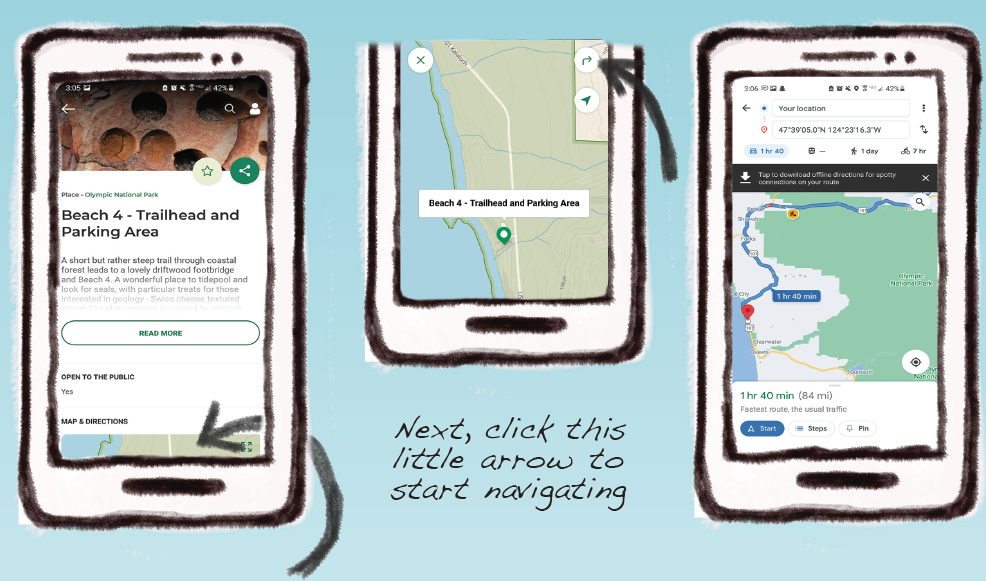 Nativate to any place in the park
Below the place description, click on the map & directions. Next, click the little arrow to start navigating. Your navigation app will guide you there!
Find the closest restroom
On the home screen, click AMENITIES. Scroll down and click RESTROOMS. Enjoy your new superpower :)
Recreate Responsibly When You Visit Olympic
Know before you go. Download the official NPS app or visit nps.gov/olym to plan ahead.
Keep a safe distance of 50 yards or more from all wildlife. Never approach or feed animals in the park.
Follow the CDC's public health guidelines.
Respect your limits. Be careful with challenging hikes or when trying new activities.
If you brought it with you, take it with you.
Keep it inclusive. Be an active part of making our nation's parks and public lands safe and welcoming for people of all identities and abilities.
TRIP TIPS for your Olympic Adventures
Stop by your park visitor centers or ranger stations for information and park brochures.
Plan your travel using the park area descriptions below and the map and chart below.
Check park program schedules below for ranger-guided walks and talks.
MOUNTAINS
Hurricane Ridge
is the most easily accessed mountain area in the park. At 5,242 feet, it is located 17 miles up a gently winding road from Port Angeles.
Hurricane Ridge Visitor Center
staff are available during open hours with information and trip planning. Picnic areas provide a chance to relax amid the breathtaking scenery. Along the trails you can take in views of glacier-clad mountains crowning miles of wilderness. Avalanche lilies, glacier lilies, lupine, bistort and tiger lilies dance beneath stunted subalpine fir trees. High-pitched whistles announce the Olympic marmot, found only on the Olympic Peninsula. Black-tailed deer feed in summer meadows and migrate downslope when cold recaptures the high country.
LAKES, LOWLAND FORESTS and RIVERS
Olympic National Park Visitor Center and Wilderness Information Center
provide information, exhibits, Discovery Room, wilderness camping permits, bear cans, park passes, bookshop and trails. Heart O' the Hills campground, five miles south, has old-growth forest and nearby trails.
Elwha
access road is washed out, but the valley is accessible by foot, bike or stock. Park at Madison Falls Trail parking. Stroll the easy, accessible trail to the falls, or walk the road and bypass trail into the valley. Glines Canyon Spillway Overlook, with dramatic views and exhibits about Elwha River restoration, is 3.4 miles one way.
Lake Crescent
is a 624-foot deep shimmering glacier-carved jewel. Stroll the shore or the Marymere Falls, Spruce Railroad or Moments in Time trails. Lake Crescent Lodge and Log Cabin Resort offer restaurants, overnight lodging and boat rentals. Visitors enjoy Fairholme Campground and boat launch.
Sol Duc
has many trails including Sol Duc Falls, a 1.6-mile round-trip walk from the end of the road. The campground has some reserved sites. Call (877) 444-6777 or visit www.recreation.gov for reservations. Sol Duc Hot Springs Resort offers warm and cool pools, food and lodging.
Ozette
offers boating opportunities, a small campground on the lake and trails to the coast.
Staircase
offers a riverside campground, old-growth forest and several trails.
COAST
The wilderness coast provides a dynamic scene. Lower tides expose sea anemones, sea urchins, sea stars and limpets strategically arranged on the rocks. It is important to leave tide pool animals in their homes, as moving just one animal can injure it and disrupt an entire community.
Kalaloch
offers an expansive sandy beach. Kalaloch Ranger Station has information, exhibits and a bookshop. Visitors also enjoy campgrounds, Kalaloch Lodge, a restaurant and convenience store. For advance reservations at Kalaloch Campground during summer call (877) 444-6777 or visit www.recreation.gov. Beach 4 and Ruby Beach are popular sites for tide pool exploration.
Mora
offers a campground and ranger station less than two miles from Rialto Beach. Along the beach, you can hike 1.5 miles north to Hole-in-the-Wall. Second Beach and La Push are closed to the public as we go to print (May 2021), and may remain closed through this season.
Ozette
You can reach the beach on a 3.1-mile trail to Cape Alava or a 2.8-mile trail to Sand Point; both routes are partially on boardwalk. A popular 9-mile loop combines these two trails with a 3.1-mile beach walk. Near the ranger station are exhibits and a small lakeside campground.
TEMPERATE RAIN FOREST
Drenched in over 12 feet of rain a year, west side valleys nurture giant western hemlock, Douglas-fir and Sitka spruce trees. Moss-draped bigleaf maples create a magical scene that obliterates all sense of time. Roosevelt elk may linger along riverbanks at dawn and dusk.
Hoh Rain Forest
visitor center staff are available during open hours to provide information and park maps. The area offers self-guiding nature trails through primeval temperate rain forest, and a campground.
Quinault Rain Forest
Ranger Station on the Quinault North Shore Road has intermittent staffing and nearby nature trails. The USFS/NPS Ranger Station and additional trails are located on the south shore of Lake Quinault. Throughout the valley, visitors enjoy rain forest hikes, lake activities, several campgrounds, lodging and restaurants.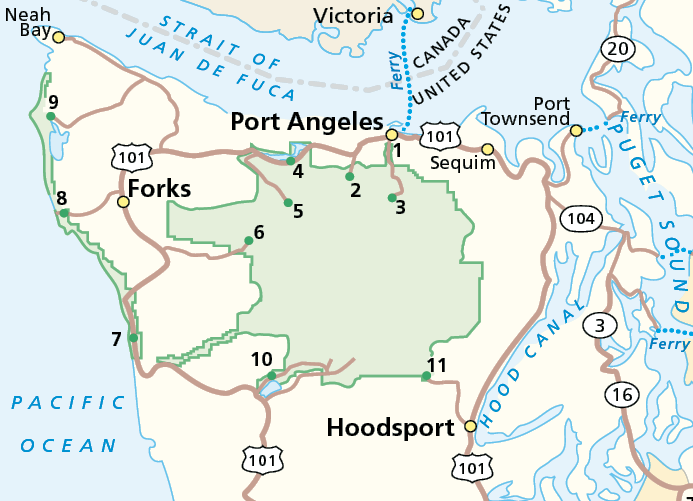 Mileage chart with distances and times
1
Olympic National Park Visitor Center and Wilderness Information Center (WIC) - Park information (360) 565-3130; WIC (360) 565-3100; 3002 Mt. Angeles Rd., Port Angeles, WA 98362
2
Elwha Valley - ROAD WASHED OUT about one mile beyond park boundary. Foot, bicycle and stock access only past Madison Falls parking.
9 miles, 0:30
3
Hurricane Ridge Visitor Center - Follow Hurricane Ridge signs; no public phone.
22 miles, 1:15
17 miles, 0:45
4
Lake Crescent, Storm King Ranger Station - 106 Lake Crescent Rd., Port Angeles, WA 98362; (360) 565-2955
See page 4 for details on delays during the 3-year rehabilitation of Highway 101 along Lake Crescent.
39 miles, 1:00
14 miles,
0:30
21 miles, 0:30
5
Sol Duc, Eagle Ranger Station - 12000 Sol Duc Rd., Port Angeles, WA 98363; (360) 327-3534
16 miles, 1:00
59 miles, 2:00
37 miles, 1:30
40 miles, 1:15
6
Hoh Rain Forest Visitor Center - 18113 Upper Hoh Rd., Forks WA 98331; (360) 374-6925
72 miles, 2:30
65 miles, 1:45
106 miles, 2:45
81 miles, 2:00
91 miles, 2:15
7
Kalaloch Ranger Station - 156954 Highway 101, Forks, WA 98331; (360) 962-2283
40 miles, 1:00
72 miles, 2:00
67 miles, 1:45
109 miles, 2:30
84 miles, 2:00
95 miles, 2:15
8
Mora Ranger Station - 3283 Mora Rd., Forks, WA 98331; (360) 374-5460
48 miles,
1:15
50 miles, 1:30
44 miles, 1:00
85 miles, 2:15
60 miles, 1:30
70 miles, 1:30
9
Ozette Ranger Station - 21261 Hoko-Ozette Rd., Clallam Bay,
WA 98326; (360) 963-2725
65 miles, 2:00
88 miles, 2:15
83 miles, 2:30
69 miles, 1:45
66 miles, 1:45
93 miles, 2:45
79 miles, 2:00
76 miles, 2:00
10
Quinault Rain Forest Ranger Station - 913 N. Shore Rd., Amanda Park, WA 98523; (360) 288-2444
120 miles, 2:45
80 miles, 2:00
33 miles, 0:45
70 miles, 1:45
104 miles, 2:45
105 miles, 2:15
143 miles, 3:15
121 miles, 2:45
128 miles, 2:30
11
Staircase Ranger Station - 13921 Staircase Rd., Hoodsport, WA 98548; (360) 877-5569
126 miles, 2:45
124 miles, 2:45
170 miles, 3:45
149 miles, 3:00
191 miles, 4:15
140 miles, 3:30
120 miles, 2:45
120 miles, 2:45
109 miles, 2:45
100 miles, 2:30
MILES AND TIMES: Are we there yet?
Welcome to Olympic National Park!
Whether you are here for a day, two days, a week or more, many spectacular sights await your discovery in this vast and diverse wilderness park.
Highway 101 encircles the park and several spur roads lead to mountains, forests and coast. The center of the park, untouched by roads, offers incredible wilderness adventures.
Look for interpretive exhibits along park roadways. Pick up a self-guiding trail brochure at various park trailheads and some visitor centers. Use this chart and area map, along with the park brochure, to create countless trip combinations for a memorable vacation.
Visitor Centers and Information
Dates and Open Hours

Summer Ranger Programs
Interpretive staff will be offering ranger programs throughout the park from Memorial Day weekend to September 30.

Check the park Calendar to see program schedule.

Check with park staff, bulletin boards or at any park visitor center for ranger program schedules. You can also visit the park website (nps.gov/olym) or call the Olympic National Park Visitor Center (360-565-3130) to verify your plans, or get help making new ones!

OZETTE
Ozette Ranger Station - Staffed intermittently. Information available on area bulletin boards.
MORA
Mora Ranger Station - Staffed intermittently Memorial Day weekend through September 30.
KALALOCH
Kalaloch Ranger Station - Staffed 9 am–5 pm Thursday to Monday beginning mid-May, and daily Memorial Day weekend–September 30. Information, maps and book shop.
LAKE CRESCENT
Storm King Ranger Station - Staffed intermittently Memorial Day weekend through September 30; see information on area bulletin boards.
PORT ANGELES
Olympic National Park Visitor Center - Open daily.
Spring and fall hours, 9 am–4 pm; May 27–October 2, 9 am–5 pm.
Information, maps, selected bookshop items, nature trails. Park information: (360) 565-3130. Recorded 24-hour road and weather updates: (360) 565-3131.

Wilderness Information Center (WIC) - Open daily.
Spring and fall hours, 9 am–4 pm; May 27–October 2, 9 am–5 pm.
Backpacking information, wilderness permits, bear canisters. Wilderness permit reservations are online at www.recreation.gov/permits/4098362 up to 6 months in advance of the start of your trip.
HEART O' THE HILLS
Entrance station and campground.
HURRICANE RIDGE
Hurricane Ridge Visitor Center - Staffed Friday to Sunday 10 am–5 pm in spring and fall; staffed daily 10 am–5 pm May 27 to October 2. Building closes for the season October 3. Information, maps, trails. The cafe and gift shop are open Friday, Saturday and Sunday only from April 27 to May 29, and daily May 30 to October 2; 10 am–5 pm. Construction will affect Hurricane Ridge in October. Hurricane Ridge will be closed to all traffic October 3-October 14.
HURRICANE RIDGE ASTRONOMY PROGRAMS
Master Observer John Goar and the Olympic dark skies rangers will once again conduct their popular night sky programs at Hurricane Ridge this summer! If skies are cloudy, programs will be canceled. For program status, call the park recording at (360) 565-3131 after 2 pm the day of the program.

Meet at Hurricane Ridge Visitor Center for a one-hour astronomy program with telescopes. Look for a distant galaxy or the planets Mars, Jupiter and Saturn.
Wednesday June 22 through Saturday July 2, 11 pm
Sunday July 17 through Saturday July 23, 10:45 pm
Sunday July 24 through Monday August 1, 10:30 pm
Monday August 15 through Sunday August 21, 9:45 pm
Monday August 22 through Wednesday August 31, 9:30 pm
Full Moon Hike on Hurricane Hill
Learn constellations on Hurricane Hill. Meet at the Hurricane Hill trailhead. As the sun sets and the full moon rises, hike at your own pace up the 1.6-mile, partially paved trail, climbing 700 feet to the summit. Staff will point out constellations at the top. Bring flashlights and wear sturdy shoes.
Thursday and Friday August 11 and 12, 8:30 pm
Saturday Sept 10, 7:30 pm

All night sky programs are weather permitting! Please call ahead to see if programs will take place at 360-565-3131. An outgoing message will be updated during the afternoon.
ELWHA
Road is washed out. Foot, bike and stock access only above Madison Falls parking area.
HOH RAIN FOREST
Hoh Rain Forest Visitor Center
- Staffed 10 am–4 pm Friday to Sunday until May 22. Open daily 9 am–6 pm from May 27 through September 30. Staffed intermittently October through December. Information, maps and trails.
STAIRCASE/HOODSPORT
Staircase Ranger Station
Staffed intermittently.
Hoodsport Visitor Information Center
- Open Thursday to Monday, 9 am–4 pm. Operated by Shelton-Mason County Chamber of Commerce, off Highway 101 at 150 Lake Cushman Rd., Hoodsport. (360) 877-2021. General information, passes, maps. Olympic National Park wilderness permits and bear canisters available from Memorial Day through Labor Day.
QUINAULT RAIN FOREST
Quinault Rain Forest Ranger Station
- North Shore Rd. Staffed intermittently Memorial Day weekend through September 30; see info on area bulletin boards.
USFS/NPS Recreation Information
- South Shore Rd. Staffed daily Memorial Day through Labor Day, Monday to Friday after Labor Day. Information, bookshop, maps. Wilderness permits and bear canisters available through Labor Day.
Last updated: June 15, 2022