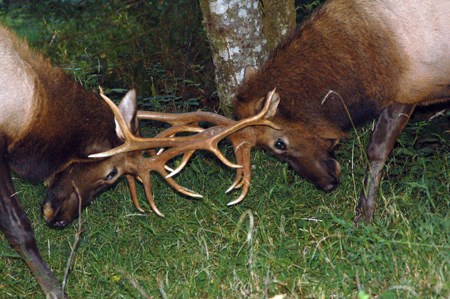 Roosevelt Elk Causing Insomnia for Hoh Campers!
If you need absolute silence to get a good nights sleep, then you might consider avoiding the Hoh Rain Forest campground for the next four weeks.
Resident bull elk have begun to bugle through the evening hours. "I heard them bugle a least a dozen times last night" said visitor Bob Worton of Madison, Wisconsin.
Visitors are reminded to stay at least 100 feet from elk when observing, or photographing them.
The Hoh Rain Forest campground is known as one of the premier places in Washington State for elk watching. Viewing is especially good during the mating season which usually takes place during the weeks of September into October.
-- contributed by Jon Preston, education ranger, Hoh Rain Forest