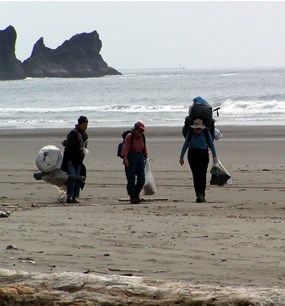 National Park Week
You're invited to celebrate National Park Week at Olympic!
The theme of National Park Week 2009 is community service, making this year's Washington Coast Cleanup on April 18 an excellent way to kick off the week, and to celebrate Earth Day. This annual event brings hundreds of community volunteers from across Washington state to collect and remove marine debris from Washington's beaches.
On April 25, Olympic will celebrate National Junior Ranger Day at the Olympic National Park Visitor Center. Children of all ages are invited to bring their favorite adult and come to the National Junior Ranger Day celebration on Saturday, April 25 from 10:00 a.m. to 2:00 p.m. at the Olympic National Park Visitor Center in Port Angeles.