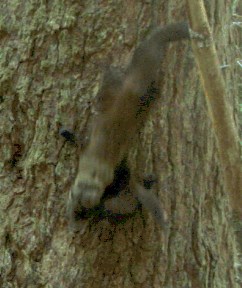 More Young Fishers Found
Biologists have located a second set of fisher kits at a den tree in the mountains south of Sequim.
Finding fisher dens is a long and arduous process, involving weeks of monitoring a female fisher's location by tracking her unique radio signal. Once biologists determine that a female's activities are closely centered on a specific location, they begin hiking -- offtrail through the Olympics' steep, forested terrain -- while continuing to monitor the radio signal, until they locate the fisher's precise location.
If they're lucky, they discover the fisher's denning tree. Once that happens, biologists mount motion-activated cameras, set to record movement on or around the suspected den tree. A week or two later, the biologists return to the site, download the cameras' images and see what they have.
So far, biologists have located two sets of fisher kits and one suspected den tree.