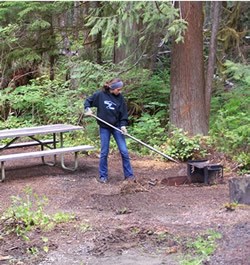 Volunteer Groups Lend a Hand at Olympic
Campground clean-up, trail maintenance and invasive plant removal are several of the recent projects worked on by volunteer groups in the park.
Students from the International Community School in Kirkland spent this week in the park, combining volunteerism with outdoor education. The 25 students, ranging from seventh through twelfth grade, spent two days raking, clearing debris and helping to replace broken picnic tables at the Heart O'the Hills campground. Thanks to their efforts, the campground is ready to open one week earlier than expected!
Heart O'the Hills campground was seriously damaged by high winds and falling trees during last winter's infamous December 15 windstorm.