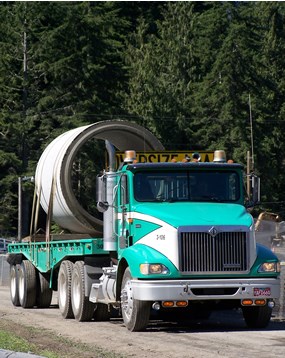 Water Protection Measures Under Construction; Elwha River Temporarily Diverted
With the summer construction season in full swing, work is proceeding on the Elwha Restoration Project. Two water quality protection facilities are under construction --both will protect water supplies during and after dam removal.
The Elwha Water Facilities project, located along the river downstream of Highway 112, includes a new surface water intake and a water treatment plant to protect the water supply for industry and fish rearing. In order to build the new surface water intake, some construction needs to be done in the river bed itself. So the river has been temporarily diverted into a constructed channel, allowing workers to enter the river bed.