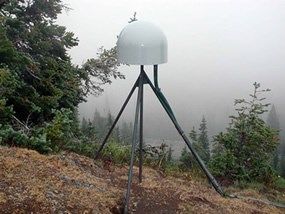 New Observatory Tracks Tectonic Plate Movement
A highly sensitive Plate Boundary Observatory (PBO) station was recently installed on Hurricane Ridge. Part of a network of over 500 such instruments, this station will detect movement along the boundary zone between the Pacific and North American tectonic plates.
Earth's plates are constantly in motion, triggering subtle -- or not so subtle -- changes, particularly along the plate margins. The PBO allows scientists to monitor long-term tectonic plate processes, along with shorter-term changes like volcanic eruptions or earthquakes.
The Hurricane Ridge PBO station includes a highly sensitive GPS receiver, capable of reporting the station's precise location to within millimeters. Nearby solar panels supply power for the instrument. To make sure the instrument is supported on an absolutely rigid and unmoving base, its four steel legs are bored two meters into the bedrock.
The PBO network extends from the eastern edge of the Rocky Mountains west to the Pacific Coast and from Mexico north to Alaska.