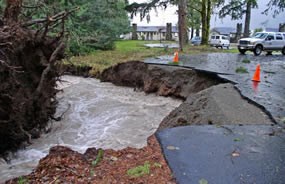 Damage Assessments in Progress After Storm Hits on December 3
Hurricane Ridge Road
A major slide near the Switchback Trail brought mud, debris and water over the road. Once the slide was cleared, workers were able to spot several areas of extensive damage to the road shoulder along the downhill lane. The road will remain closed this weekend to allow crews to fully assess the damage and begin repairs. The Heart O'the Hills campground is closed due to earlier damage from the November 12 windstorm.
The Sol Duc Road is closed due to a mudslide about a half-mile south of Salmon Cascades, along with downed trees.
Hoh Rain Forest
The Hoh Road is closed outside the park boundary at milepost 7.8. One lane of the road is washed out at that location; additional damage also occurred within the park.
Quinault Valley
The North Shore Road has been cleared for local resident access, but is closed to all other use due to safety considerations. The South Shore Quinault Road is closed within the park boundary due to washouts and hundreds of downed trees. Park crews are working today to clear an access route to the washouts so a full damage assessment can be made and repairs begun. The Graves Creek Road sustained heavy damage from floodwaters, but has not yet been fully assessed. The North Fork Road is littered with downed trees -- an initial assessment yesterday revealed 300 downed trees in the first two miles.
The Elwha, Lake Crescent, Mora and Ozette areas have reopened, but visitors are urged to use caution when traveling through the park and to come prepared for a variety of weather conditions, along with damaged trails and downed trees.
Once damage assessments are complete, volunteer opportunities will be posted at the park's volunteer webpage. Groups and individuals interested in volunteering to help the park with storm recovery are urged to check there for current information.