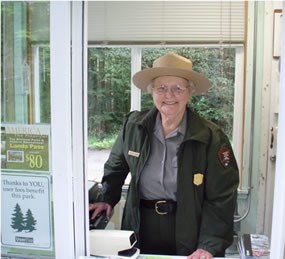 Betty Fleming Honored
With a ready smile and cheerful greeting, Betty Fleming welcomes hundreds of people each day to Olympic National Park. This year, she celebrates her twentieth summer as a visitor use assistant at the Heart O'the Hills entrance station.
Betty's known for her attention to detail and unfailing good spirits at Olympic's busiest entrance. She was recently honored with an On-the-Spot employee award.
Congratulations, Betty! And thank you for your 20 years of welcoming and helping park visitors.