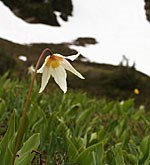 Emerging from under the green forest blanket into the open world of the subalpine can be breathtaking. Suddenly the views open up, avalanche chutes slice through the trees, the dense forest thins, and deer graze in small meadows amid copses of spire-like subalpine firs. You've reached the subalpine, the zone "sub," or below, the alpine. Since alpine is the zone above treeline; subalpine forms the transition zone from dense forest to treeline.
Challenges of Mountain Life
Cold temperatures, snow, wind, fire, and a short growing season all affect life in the subalpine. At aptly named Hurricane Ridge, 80 miles-an-hour winds can snap ice-laden trees, or deposit so much snow on steep slopes that thick slab avalanches release downhill, toppling anything in their path. The Olympics intercept moisture from Pacific storms and in the mountains, that precipitation falls as snow. Thirty to fifty feet of snow can fall each winter; drifts may linger into July or August on shady north slopes. But the same snow that kills also nurtures, watering wildflower meadows as it melts and feeding tiny streams that eventually coalesce into powerful rivers watering the valleys below.
Where to See the Subalpine Zone
Two roads access the higher elevations of the park. Hurricane Ridge provides the easiest access, with short nature trails in the subalpine environment. The steep, narrow, gravel Deer Park Road is unsuitable for RVs or trailers, but cars can ascend to over 5,500 feet and access several trails in subalpine and alpine. Many miles of hiking trails access the high country of the park as well.