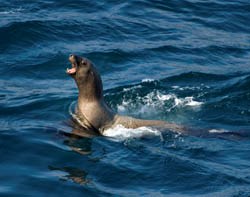 Steller's Sea Lion - Eumetopias jubatus
Identification:
The Steller's sea lion is the larger of two species of sea lions that inhabit Pacific coastal waters. Males may weigh upwards of 2,000 pounds. They are tawny-colored and much less vocal than the California sea lion.
Habitat:
Steller's sea lions arrive off the Olympic coast during the late summer and early fall, hauling out in masses on the abundant offshore rocks, right alongside their smaller cousins. These whiskered creatures are often visible on the islands off the coast of Cape Flattery and Cape Alava.
Diet:
Codfish, smelt, squid, rockfish, and other fish are staples of their diet.