Steelhead

Steelhead - Oncorhynchus mykiss
Identification:
Before its decline, wild steelhead was a prized catch among fisherman in the Pacific Northwest. This "wild" variety is an anadromous stock of rainbow trout, migrating between sea and freshwater in the Olympic peninsula. While local rainbow trout usually weigh between one and three pounds, steelhead can grow significantly in the ocean, weighing up to 30 lbs. They are heavily spotted on the back, with squarish tails and flanks. Like other salmon, they are bright silver in the ocean. During spawning, they are darker, and often develop some dark green or red on their flanks.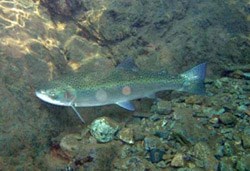 Spawning:
Unlike salmon, which die after spawning, steelhead spawn on average two or three times throughout their adult life. Both summer and winter runs of steelhead have declined in recent years, with the winter-run "steelies" remaining relatively healthy in the rivers of Olympic National Park. These winter runs are found in a great deal of the main stem rivers, side channels, and tributaries.
Summer runs have extensive ranges, swimming to the far reaches of the Hoh, Quinault, and Queets Rivers, and historically, the Elwha River.
Both summer and winter-run steelheads spawn in the spring. Summer-runs migrate to freshwater before their reproductive organs are fully developed, while winter-run steelhead do all their maturing at sea. Steelhead redds can be seen near the Hoh, Sol Duc, and Queets campgrounds during May and June.
Conservation Status:
Habitat degradation has taken a major toll on both summer and winter run steelhead. In 2007, Puget Sound steelhead was listed as threatened under the Endangered Species Act. This distinct population segment includes more than 50 stocks of the wild anadromous summer and winter runs, including the Elwha River population, but does not include the majority of hatchery stocks.
Due to the presence of the tribal hatchery, the Elwha River is the largest producer of steelhead in the Strait of Juan de Fuca. Wild production of steelhead, however, is limited by available freshwater habitat. Removal of the dams in the Elwha River may allow steelhead to recover to historic numbers. (Historic Range Map)

This webpage was made possible in part by a grant from Washington's National Park Fund.
Last updated: February 28, 2015