Rivers and Lakes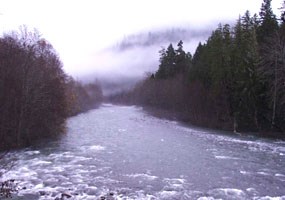 Water defines Olympic National Park. In cloud form it delivers abundant rain and snow. As frozen glaciers, it sculpts the peaks. In snow-melt rivulets it waters mountain meadows then feeds powerful rivers rushing to the sea. Alpine tarns perch on peaks and several huge lakes lie in the lowlands. These streams, rivers and lakes are a circulatory system—life-blood of the park's diversity.

From the Hoh River to Lake Crescent, these waterways have made this region a landmark. They come from within and bring life from around, providing for ecosystems across the geologically diverse land.
A Wheel of Rivers
Rivers are subject to constant change. This change shows direct relation to the geology of the landscape through which rivers flow and form. Everything from elevation and rock hardness to glaciers and seasonailty affects the shape and behavior of these bodies of water. Mount Olympus, the park's highest peak, is in the middle of the Olympic range. Rivers radiate out from this central wall of mountains like spokes on a wheel. On the park's west side, valleys are broad and U-shaped, having been sculpted by glacial activity long ago, and rivers meander over remaining wide floodplains. In other areas of the park, rivers often sculpt their own passage, leaving behind constricted, V-shaped valleys.
Highways of Life
With headwaters protected within the boundaries of the park, these are healthy, dynamic watersheds where natural processes like flooding, log jams, and nutrient cycling prevail. The protection of the waterways allows for further sanctuary for a variety of aquatic dependent wildlife like fishes and semi-aquatic mammals. These rivers may eventually work their way to the coast where they intermingle with the ocean, providing for animals of both shore and sea. This abundance of life and passable corridors of the region have attracted people for over 12,000 years and continues to today.

To learn more about human impacts of waterways in Olympic, click on the links below.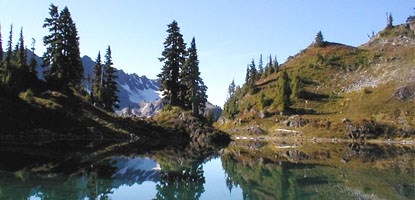 Last updated: September 29, 2020