River Otter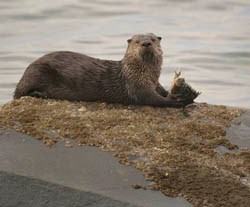 River Otter - Lutra canadensis
Identification:
River otters are common along the Pacific coastal section of the park, where they are often mistaken for sea otters. Much smaller than sea otters, the weigh about 30 pounds. They have small ears, plenty of whiskers, and are generally brown with silvery bellies. Their webbed feet allow them to be the excellent swimmers that they are.
Habitat:
River otters are often found on lakeshores, riverbanks, and the outer coast of the peninsula. They are commonly seen in intertidal areas close to shore where they forage for food. River otters spend much less time in the water than sea otters do.
Diet:
River otters feed mainly on crayfish, fish, and small rodents.
Back to Terrestrial Mammal Species List
Back to Marine Mammal Species List
Last updated: February 28, 2015