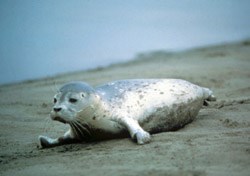 Identification:
Walking along the beach, don't forget to look to the water for a playful Pacific harbor seal swimming and bobbing alongside. Pacific Harbor seals are one of the few year-round inhabitants of the coastal waters. Though it may be hard to tell from a distance, harbor seals are often grey with either dark or light spots or rings. They have distinctive "V-shaped" nostrils and whiskery snouts.
Habitat:
Harbor seals on the Olympic coast have been known to stay relatively close to the shore, feeding in the intertidal areas and hauling out on offshore rocks, or outcrops.
Diet:
Harbor seals are far from picky eaters, usually taking what is available. They feed on pollock, hake, herring, and other middle and bottom fish.