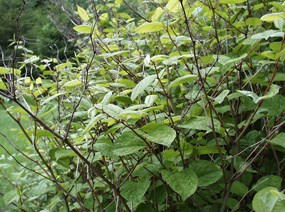 Fallopia japonica
(also known as Polygonum cuspidatum)
Japanese knotweed is a shrub-like herbaceous plant with hollow, bamboo-like stems. It is very persistent and can reproduce from small pieces of stem and root.
Identification:
Japanese knotweed is a perennial with many smooth, reddish-brown, jointed stems that grow three to ten feet tall. Its leaves are as large as six inches long by four inches wide, oval or triangular, and pointed at the tip. Flowers are very small, white to green, and grow in drooping clusters. Seeds form soon after flowers and are triangular, shiny, and winged.
Look-a-likes:
These two species are also invasive.
Giant knotweed (Polygonum sachalinense)
The hybrid of Japanese and giant knotweed:
Bohemian knotweed (Polygonum xbohemicum)