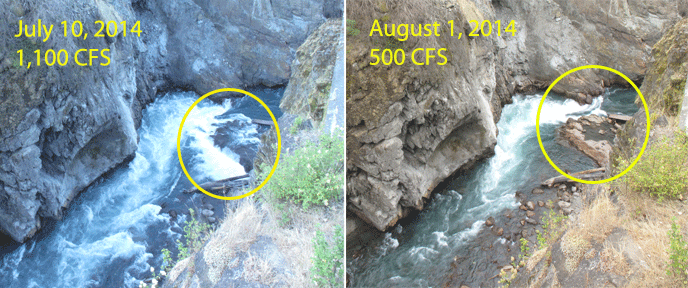 Nearing the End of Dam Removal
August 1, 2014
In February, rain and high river flows put dam removal on hold when the last 30 feet of Glines Canyon Dam were completely covered by water. Initial projections anticipated that flows of 1,000 –1,200 cubic feet per second (CFS) would be low enough to allow work to resume, but careful monitoring of the project webcam and stream flow gauge has shown that flows need to drop to nearly 600 CFS in order for the top of the dam to be dry enough for a final blast.
With recent dry weather, flows have dropped below the top of the dam and the contractor is expected to be back at work early this month. Their first step will be to drill an extensive pattern of holes into the remaining concrete, a process likely to take several weeks.Then the contractor will pack the holes with explosives and set off a controlled blast to dislodge and fracture what's left of the dam.Following the blast, at least several weeks of work remain to remove the concrete rubble that once was the dam. A clamshell bucket attached to the crane will be used to scoop up and remove the broken concrete, which will be trucked to a nearby Clallam County gravel pit where it can be pulverized and recycled into road surface.
Meanwhile, the river channel is still very much in transition, as sediment moves downstream and natural processes are restored, and scientists are carefully monitoring both sediment flow and fish migration in the river.
During the past three years of dam removal, the Elwha River has experienced historically low river flows. Average annual peak flow for the ten years preceding dam removal was 20,730 CFS. This past March, flows reached 12,000 CFS, the highest flow since dam removal began in September 2011. This flow carried enough force to relocate large boulders (including one estimated to weigh eight tons) just downstream of the former Elwha Dam site, but was still not enough to be considered a'high' flow for the Elwha River.
Since April, biologists have captured and radio-tagged a total of 62 adult salmonids and are tracking their movement through the watershed.So far, ten bull trout, two wild steelhead, three Chinook and one sockeye salmon have been tracked migrating upstream of the old Elwha Dam. No fish has been observed above Glines Canyon Dam yet, but the radio telemetry will allow biologists to assess fish passage and migration once dam removal is complete. Biologists will continue to capture and tag fish through this fall and winter.
While the dam removal portion of Elwha River Restoration is expected to be finished this fall, monitoring will continue for years to come, with scientists tracking the return of fish, wildlife, vegetation and sediment flow. And nature will continue the ecosystem restoration process for decades to come.