English Holly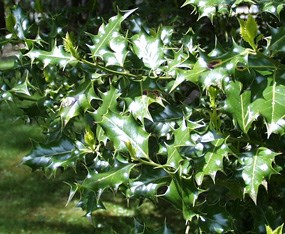 Ilex aquifolium
English holly was introduced to the Puget Sound region as an ornamental and later cultivated on holly farms for the floral industry. It is now an escapee threatening native habitats.
Identification:
English holly is an evergreen tree with a dense conical growth of short branches. It can grow up to 50 feet tall and one-and-a-half feet in diameter. Leaves are oval with spiny points and wavy edges; they are stiff and leathery, shiny dark green above and paler beneath. The tree's bark is gray and smooth or nearly smooth. Twigs are greenish to purplish. Female flowers (which mature into fruit) and male flowers (which produce only pollen) are found on separate plants. Holly fruit is berrylike, shiny red, and contains four nutlets.
Look-a-likes:
Native Oregon grape species with waxy slightly-pointed leaves could be confused with holly.
How is it spreading and where?
English holly was introduced from southern Europe, northern Africa, and western Asia. It is an escaped ornamental, now widely distributed. It grows from seeds and is spread by birds. It is shade tolerant and can live in undisturbed forested sites. It can displace native conifers like Douglas-fir or Sitka spruce.
English holly is widely established in lowland areas of Olympic National Park, such as near the Mora ranger station.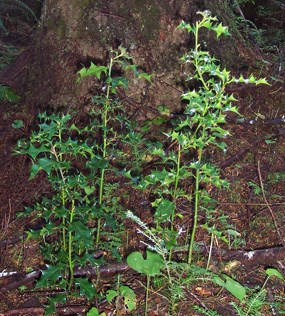 Control in Olympic:
Small English holly trees are hand-pulled. Larger trees are cut and berries collected and removed. Stumps of felled trees are treated with herbicide.
For more information, see Weed Resources.
Back to Invasive Plants
Last updated: February 28, 2015