Cougar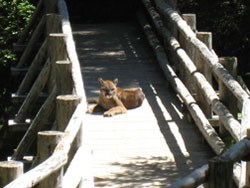 Cougar – Puma concolor
Identification:
Cougars are one of the most reclusive, elusive, and stealthily creatures of the forests. Thus, they are rarely seen by people. Usually a tawny-light brownish color, they may also be gray or reddish. They are large cats, statistically the fourth largest of the feline family, behind lions, tigers, and jaguars. Males may weigh up to 250 lbs, while females usually weigh between 75 and 100 lbs.
Habitat:
The cougar prefers habitats with dense underbrush and clear rocky areas for stalking. Cougars of Olympic National Park tend to live in the mountains and forests. The cougar is a very territorial animal and persists at low population densities. Though the cougar population is uncertain, there is definite evidence of their existence. Territorial scratch mounds and tracks can be found on the backcountry trails throughout the park.
Diet:
Cougars sit, along with black bears, at the top of the food chain. They prey mainly on elk and deer, but may also eat smaller mammals and rodents.
Safety:
Remember, if you see a cougar, do NOT approach it! Though cougar attacks are rare, these animals may react if they feel threatened. It is important to to read the Cougar Safety brochure (pdf) for information about how to react if you encounter a cougar. If you happen to see a cougar, call the nearest ranger station or headquarters to report your sighting, or 911 if it is an emergency.
Last updated: December 17, 2018