Amphibians and Reptiles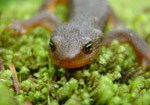 Amphibians
Walk through a rain forest valley on a damp spring day and look around at the mossy forest floor, or under the abundant, decaying downed trees. You may spot an amphibian. The ponds, lakes, streams and forests of Olympic National Park provide the ideal habitat for 13 species of frogs, toads, and salamanders. Some, like the rough-skinned newt, which sports a bright orange belly and bumpy brown skin, are common in the lowlands. Others, like the tailed frog, can live in cold, rushing mountain streams.
Throughout the world, many amphibian populations are declining. Though research has revealed Olympic seems to have fairly stable populations of most species, western toads could be declining. With life histories that include life in air and water, amphibians are susceptible to pollution from both sources, as well as being vulnerable to predation by introduced non-natives like bull frogs and eastern brook trout.
Reptiles
The cool, maritime climate in Olympic National Park is not ideal for reptiles. Nevertheless, three types of snakes and a lizard have been noted in the park. There are no venomous snakes on the Olympic Peninsula.
Click here for a list of amphibians and reptiles that have been seen in the park.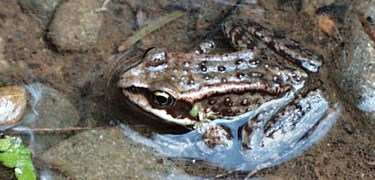 Last updated: January 18, 2016