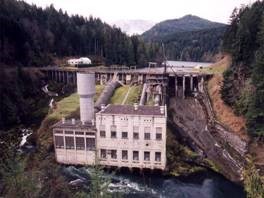 Background: Hydroelectric projects in the U.S. are licensed through the Federal Energy Regulatory Commission (previously the Federal Power Commission) and governed by the Federal Power Act of 1920. The Elwha Dam, constructed from 1910 to 1913, preceded the act and has never been licensed to operate. The Glines Canyon hydroelectric project was constructed from 1925 to 1927 and received a 50-year operating license in 1926.

The Crown Zellerbach Corporation, which then owned both hydroelectric projects, filed an application in 1968 for the Elwha project and a relicensing application in 1973 for the Glines Canyon project.

What follows is a timeline of key events related to the relicensing proceedings, culminating in the 1992 passage of a negotiated legal settlement in the form of the Elwha River Ecosystem and Fisheries Restoration Act.